International website provides users with a wide variety of information on solar hot water and hydronic heating products.
Apricus, a leading designer and manufacturer of solar hot water and hydronic heating products, is pleased to announce the launch of their redesigned website www.apricus.com.

The new and improved global site, designed by Vision Creative Studio (www.visionstudio.com.au/), features an updated look while providing users with a wide variety of information from solar basics to system sizing and advanced technical files in one easy to use site. A secure login area allows Apricus customers instant access to project manuals, specification sheets, promotional materials and other necessary files. A product registration form is also incorporated into the site to allow end users to register their system details which will assist in future service.
Mick Humphreys, Apricus CEO said, "We are very excited about the new website. With ease of use and education at the heart of the design, and more content targeting our different types of customers, the new site makes learning about solar and Apricus products easier than ever."
The international website offers English, French, Spanish and Chinese content to reach Apricus' wide range of global customers. The site also integrates the company's social media outlets as well as a news section to keep users informed about the latest happenings at Apricus.
About Apricus
Apricus is a leading designer and manufacturer of solar hot water and hydronic heating products for residential and commercial use. With a rapidly growing distribution network throughout North America, offices in the US, France, and Australia, and representation in over 30 countries; their range of renewable energy products provide simple and effective solutions for families and businesses concerned about the effects of climate change and rising energy costs.
For further information about Apricus and how to order Apricus products, please contact Apricus at 1-877-458-2634 or visit www.apricus.com.
Featured Product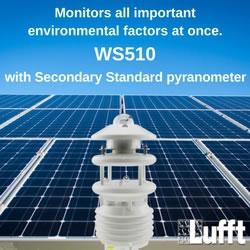 Professional weather sensors form the heart of large solar plants supporting their operation and performance. Lufft was the first manufacturer to combine several sensors in one housing, bringing the largest multiparameter weather sensor family with 19 members into being. Many of them are well-suited for solar site assessment and continuous monitoring. The most commonly used one is the WS600 delivering data on temperature, air pressure, wind, relative humidity and precipitation. Through its open protocol, it can easily be attached to radiation sensors e.g. from Kipp&Zonen. Other models have an integrated Silicon, Second Class or Secondary Standard radiation sensor.