Industry vet Aldridge brings experience in multiple renewable energy technologies
BOULDER, Colo. – August 2, 2011 – AlsoEnergy continues to build out their national sales presence with the addition of Elizabeth Aldridge as their new western regional sales manager.

Aldridge's industry experience spans commercial and utility development for solar, wind, electric transmission, transportation, and telecommunication industries.
She worked most recently as an energy consultant for SolarCity. In that role, she focused on leading the development and sale of solar electric systems to homeowners and developers.
She previously served as a business development manager for Aldridge Electric, where she worked on such projects as securing a contract to develop a 10MW solar farm in Chicago, as well as an installation of a 50kW wind turbine, also in the Chicago area. Prior to that, she worked at the Colorado Governor's Energy Office in the Electric Utilities Division.
"The energy industry is growing rapidly and I've been lucky to be a part of its evolution for most of my career," said Aldridge. "AlsoEnergy's pioneering software has the unique ability help expand renewable energy beyond the limits of hardware and bring a sophisticated hybrid of data and electronics to effectively drive market efficiencies."
"Energy monitoring is becoming a critical piece to asset management, whether you are a renewable energy developer, manufacturer or investor," said AlsoEnergy CEO Robert Schaefer. "The expansion of our national sales team and Elizabeth's career experience complements our focus on providing the most comprehensive energy monitoring and financial management software tools."
Aldridge holds a master's degree in global finance, trade and economic integration. She intends to leverage her Spanish speaking abilities for solar sales as AlsoEnergy looks to expand to Latin American and European markets.
About AlsoEnergy
Based in Boulder, AlsoEnergy provides the most comprehensive energy monitoring and financial management software solutions for renewable energy developers, manufacturers and investors who are establishing today's clean-tech industry standards and best practices. From residential and government to commercial and utility grade applications, AlsoEnergy's technology platform increases business results with online access to critical cost and production data. With the industry's only complete client-customized web application, AlsoEnergy's unique architecture and price point reduce risk, improve energy supply chain transparency and bring strategic vision to energy portfolio administration and the global clean-tech marketplace. For information, visit www.AlsoEnergy.com.
###
Featured Product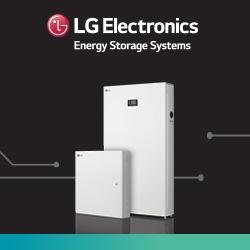 LG Solar is transforming today's solar landscape, offering precision-manufactured and high-efficiency solar panels for homeowners who demand high performance, reliability and consistently strong energy yield from a brand they can trust. LG modules feature outstanding durability, appealing aesthetics and high-efficiency technology, backed by a limited 25-year product, performance and labor (up to $450) warranty. Homeowners who purchase LG Solar modules know they're protected by a diversified global brand.