Texas Poised to Leap to Front of the U.S. Solar Market
Washington, DC – September 13, 2011 – After several years in California, Solar Power International 2011 (SPI 2011), the premier global solar conference and expo, heads to the Lone Star State. Taking place October 17-20 in Dallas, Texas, at the Dallas Convention Center, SPI 2011 anticipates attracting more than 24,000 solar industry professionals from over 126 countries. The show expects to generate $26 million in economic activity for Dallas, while simultaneously highlighting that Texas is poised to become a leading U.S. solar market.

Texas holds immeasurable opportunity for the solar production industry, as experts recognize the state as having the highest solar resource potential in the U.S. It is predicted that Texas, now ranked #10 on the list of leading solar-energy producing states, could jump to the #1 or #2 spot within the next 5 years with the right policy.
"The U.S. solar industry has progressed well beyond the market traditionally confined to California and a few other select states," said Julia Hamm, President and CEO of Solar Electric Power Association, "SPI's transition to Dallas marks a milestone for the solar energy industry within Texas."
"We are thrilled to bring SPI to Dallas this year and look forward to hosting a record-breaking number of attendees and exhibitors;" adds Hamm. "To date, Texas companies comprise 49 of the 1,200+ total exhibitors, a 37 percent increase from last year."
"The U.S. solar energy market is booming and Texas has become one of the fastest growing markets in America," said Rhone Resch, President and CEO of the Solar Energy Industries Association. "In 2010, the U.S. solar market grew 67 percent to $6 billion in value and we are adding tens of thousands of workers each year."
Many of the exhibitors at the solar conference are expanding photovoltaic production in Texas, with notable exhibitors from the Dallas region including AmerCable, Helio East Solar, KOTRA and Pulsar Energy, Inc.
Recent solar projects in Texas include a 14-megawatt solar farm established late 2010 in San Antonio, and a new 30-megawatt solar facility in Webberville, near Austin, which began construction in May 2011. Additional large-scale solar projects are emerging in San Marcos and Pflugerville and are expected to extend throughout the state of Texas boosting its position as a solar industry leader.
Benefits of solar projects are especially compelling for Texas.
"Texas is a state known for the oil, but it also is rich with world class solar resources and the largest per capita energy consumption. The heat and drought that Texas experienced this year is a reminder that solar can preserve their limited water resources and help alleviate strain on the electrical grid during peak demand, resulting in a decrease of power shortages," said Resch.
For additional information on Solar in Texas visit www.solarmeansbusiness.com
Registration, sponsorship, exhibitor and program information can be found at: www.solarpowerinternational.com.
For press registration visit: http://registration2.experient-inc.com/showSEP111/DefaultPress.aspx
SPI 2011 Sponsors include: Terawatt sponsor Sharp and Gigawatt sponsors Hanwha SolarOne and LDK.
# # #
Solar Power International 2011 (SPI), presented by the Solar Energy Industries Association (SEIA) and the Solar Electric Power Association (SEPA), is designed to serve and advance the solar power industry and draws more than 24,000 professionals representing over 128 countries. SPI 2011 takes place October 17 - 20 at the Dallas Convention Center. Registration, sponsorship, exhibitor and program information can be found at: www.solarpowerinternational.com.
 
The Solar Electric Power Association (SEPA) is an educational non-profit organization dedicated to helping utilities integrate solar power into their energy portfolios. With more than 825 utility and solar industry members, SEPA provides unbiased utility solar market intelligence, up-to-date information about technologies and business models, and peer-to-peer interaction. From hosting national events to one-on-one counseling, SEPA helps utilities make smart solar decisions. For more information, visit www.solarelectricpower.org.
Solar Energy Industries Association Established in 1974, the Solar Energy Industries Association is the national trade association of the U.S. solar energy industry. Through advocacy and education, SEIA is working to build a strong solar industry to power America. As the voice of the industry, SEIA works with its 1,000 member companies to make solar a mainstream and significant energy source by expanding markets, removing market barriers, strengthening the industry and educating the public on the benefits of solar energy. www.seia.org
Featured Product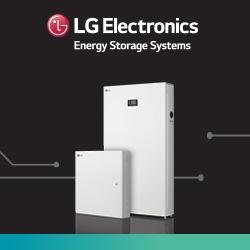 LG Solar is transforming today's solar landscape, offering precision-manufactured and high-efficiency solar panels for homeowners who demand high performance, reliability and consistently strong energy yield from a brand they can trust. LG modules feature outstanding durability, appealing aesthetics and high-efficiency technology, backed by a limited 25-year product, performance and labor (up to $450) warranty. Homeowners who purchase LG Solar modules know they're protected by a diversified global brand.