Horb am Neckar, Germany, October 6th, 2011. DEGERenergie has been manufacturing in Canada for more than a year and is now looking back on very successful activities on the Canadian market. In the meantime, the company has sold more than 4,300 of its tracking systems there.
Particularly fast growing is the solar market in Ontario. Due to the microFIT program that particularly subsidizes installations with up to 10 kW output, the focus there is on small and medium-sized systems. These systems are mostly installed by farmers, medium-sized companies and municipalities. In particular, DEGERtraker 5000HD and 9000NT are used.

DEGERenergie's advantage: The company has been in close contact to distribution and installation partners in Canada for years. And: Thanks to its local production facilities, DEGERenergie complies with the requirements defined in the "Domestic Content Compliance" of the Ontario Power Authority (OPA). It demands that at least 60 percent of the production costs be generated from in-country products and services. "Therefore, the yields of the solar installations equipped with our solar tracking systems are entirely refunded according to the microFIT program. Provided, of course, that the other components also meet the requirements," explains DEGERenergie Sales Director Rainer Ott.
"Our trade mark – and as such it is regarded by our Canadian partners and customers – is 'German Engineering Quality – made in Ontario/Canada'. In addition, we have numerous experienced local service and support partners. Thanks to all these aspects, we are the best choice for solar tracking systems within the scope of microFIT and FIT projects. Currently, microFIT solar projects with a total output of more than 58 megawatts are installed. And more than 50 percent of the microFIT installations featuring solar tracking systems are equipped with DEGERenergie technology."
Logistics and Support Center in Ontario
DEGERenergie considers itself to be part of the industry of Ontario and has meanwhile also established a logistics and support center for the Canadian market there. Rainer Ott: "Our customers understand this as a valuable commitment to the Canadian market. We receive queries from potential customers and installation partners who are interested in our systems on a daily basis. Demand and order situation are more than satisfactory."
According to DEGERenergie and many other players in the market, the Canadian solar market will grow considerably in the next years. "Photovoltaic systems are becoming one of the most important energy sources." Particularly in the context of the incident in Fukushima and the ever rising energy prices in Canada. "The development in other Canadian provinces and in the USA, Canada's southern neighbor, is similar, even though not as dynamical yet. Ontario's Green Act could become a blueprint for other Canadian provinces.
DEGERenergie is the global market leader for solar tracking systems. Worldwide, approximately 45,000 DEGERenergie systems have been installed in over 45 countries. The company is represented in Spain, Greece and North America with its own subsidiaries and cooperates with local distribution and service partners in many countries across the world. The patented DEGERenergie Maximum Light Detection (MLD) technology makes it possible to improve the energy yield of solar power plants by up to 45 percent compared to fixed systems.
DEGERenergie at
Solar Power International (17. - 20. October 2011)
Booth 4149
Note for editorial staff:
You can download printable image material here (http://www.degerenergie.de/english/news/press-releases.html) at the end of the text. Of course, you can also obtain printable image material from: Herbert Grab, Phone: +49 07127-5707-10, E-mail: herbert.grab@digitmedia-online.de.
About DEGERenergie (www.DEGERenergie.com):
DEGERenergie is the leading manufacturer with the world's largest product range of single and dual-axis solar tracking systems. The company's market position is based on the unique patented Maximum Light Detection (MLD) technology developed by Artur Deger, which makes it possible to maximize the yield of solar power plants with an "intelligent" control. With the DEGERconecter, the solar modules are always aligned according to the brightest position in the sky with the highest energy yield. This way, the overall energy yield of solar power plants with MLD tracking is up to 45 percent higher than that of fixed systems and this difference is even more pronounced for peaks. With approximately 45,000 systems installed in more than 45 countries, DEGERenergie is the global market and technological leader. The company offers its customers all product related solutions – from the development and planning, production and sales to maintenance and service.
In its headquarters in Horb (Germany), its subsidiaries and supplier companies, DEGERenergie is currently employing a staff of nearly 400. The company was founded in 1999 and in 2001 won the Inventor Award of the German state of Baden-Württemberg for the MLD control module DEGERconecter. In 2005, DEGERenergie opened its first subsidiary in Spain, followed by subsidiaries in the USA and Greece in 2009. Additional business locations are planned for 2011. The company's production sites are located in Germany, Canada and the USA. CEO is Artur Deger.
You can't always rely on the weather. But you can rely on an intelligent control system from DEGERenergie.
Customer contact:
DEGERenergie GmbH
Industriestraße 70
72160 Horb, Germany
Phone: +49 (0) 7451-539 14-0
Fax: +49 (0) 7451-539-10
E-mail: sales@DEGERenergie.com
Press contact:
Herbert Grab
digit media
Schulberg 5
72124 Pliezhausen, Germany
Phone: +49 (0) 7127-5707-10
E-mail: herbert.grab@digitmedia-online.de
Featured Product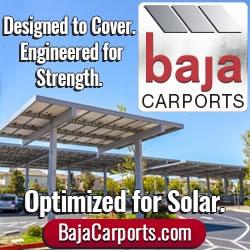 Baja Carports offers an extensive solar support system product line customized to customers' site specifications by in-house engineers, meeting their parking lot coverage, plus optimal PV production needs. Baja's Full Cantilever Tee is often paired with its Semi and Full Cantilever carports to meet live/loads up to 60psf and wind speeds to 160mph. All Baja products are pre-fabricated, bolted connections, pre-galvanized structural steel for fast on-site installation and project aesthetic requirements."