Winner by MassEcon for the Massachusetts Economic Impact Awards; Solectria Renewables was among 23 finalists selected based on job growth, facility expansion, investment and community service
Lawrence, MA – October 6, 2011 – Solectria Renewables, LLC, the leading U.S. PV inverter manufacturer, announced today that it has been named as the Gateway City Champion winner for the Massachusetts Economic Impact Awards, awarded annually by the Massachusetts Alliance for Economic Development (MassEcon). The Impact Awards celebrate companies that have made an outstanding contribution to the Massachusetts economy.

"New England is outpacing the rest of the country in economic recovery," said Bob Brustlin, Chairman of MassEcon. "The Impact Awards recognize the progress that Massachusetts is making by honoring businesses such as Solectria Renewables that are contributing to this growth." Finalists were chosen from Boston to the Berkshires – from a multitude of sectors.
Solectria Renewables was chosen because of its contribution to the Massachusetts economy. Solectria Renewables has added 68 new clean energy jobs including professional, engineering, customer service, and manufacturing jobs. It currently has 21 open positions and plans to add at least 20 more in 2012. In March of 2011, Solectria Renewables expanded its factory, at the Riverwalk Properties, a converted mill building, from 3,200 in 2005 to 40,000 square feet and increased its production capacity from 300 MW to 800 MW. Solectria Renewables continues to provide community support by sponsoring the Pan Mass Challenge, Merrimack Valley Chamber of Commerce, Lazarus House Ministries, Bread and Roses and contributing over $25,000 to the Solar Decathlon.
"Solectria Renewables is honored to be chosen as the Gateway City Champion winner from this esteemed group of finalists," said Anita Worden, Chairwoman of Solectria Renewables. "This recognition represents the hard work and dedication of our staff to continuously improve our products and company."
MassEcon selected the finalists based on job growth, facility expansion, and investment since January 1, 2010, as well as other criteria including community involvement. Finalists competed on a regional basis, defined as West, Central, Southeast, Northeast, and Greater Boston. Out of the finalists, gold, silver, and bronze winners were selected from each region as well as a Gateway City Champion from the Northeast and Central regions.
"As we climb out of the recession, it is important to recognize that there are businesses across the state that are expanding," Susan Houston, Executive Director, MassEcon added. "Growth in the Commonwealth is not limited to one region or one industry; these finalists come from every region of the state and represent a diverse group of industries."
For more information and the complete list of finalists and winners, please go to: http://massecon.com/pdfs/general/Mass_Econ_-_Impact_Awards_Finalist_Release_-_09_15_11.pdf (finalists) and/or http://massecon.com/images/uploads/General_Press_Release_10-3.pdf (winners).
About Solectria Renewables, LLC
Solectria Renewables, LLC is the leading U.S. based grid-tied photovoltaic inverter manufacturer for residential, commercial and utility-scale solar installations. Our versatile line of high efficiency products provide power solutions ranging from 1 kW residential systems to multi-megawatt solar farms. Solectria Renewables' products are backed by more than 20 years of experience in the power electronic and inverter industries and supported by world class warranties. All of our commercial and utility-scale PV inverters are manufactured in the USA, ARRA compliant, Ontario FIT Content Compliant, and listed to UL 1741/ IEEE 1547.
About MassEcon
MassEcon, founded in 1993, is a non-profit partnership of the private and public sectors dedicated to marketing Massachusetts as a competitive location for business. Its services include the state's only Site Finder Service, which helps expanding and relocating companies find appropriate sites throughout the Commonwealth; the Research & Information Service, which provides companies with the information they need to evaluate the Commonwealth as a location to grow; and the Massachusetts Ambassadors, a network of civic and corporate leaders who help market Massachusetts as a place to do business.
CONTACT
Natalie Wiener
Marketing Manager
+1 978-683-9700
natalie@solren.com
Scott Bowden
Business Development Manager
+1 978-683-9700
scott@solren.com
###
Featured Product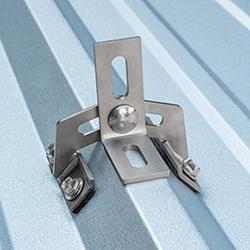 QuickBOLT Low Profile QuickBOLT with Microflashing™ is the industry's affordable, UL Certified Asphalt Shingle mounting system. The Microflashing™ is compressed by the collar on the bolt to create a water-tight seal. With an installation time of less than one minute, the Low Profile QuickBOLT allows installers to complete more jobs.