Tucson is known for its abundant sunshine so if you are a renewable energy firm, you'll be interested to see which companies have found Tucson to offer more than just "sunny skies" to attract their business.
While Tucson is already known for its abundant sunshine, the region is also becoming well known for its abundant human capital, state of the art research and technology development, ample supply chain opportunities and competitive operating costs. This translates into opportunity – from sunrise to sunset – for any solar-focused company wanting to take advantage of the region's unique assets.

Recognized globally as a location of choice for solar energy activities, Tucson's emerging solar industry promises a bright future. The region has valuable resources for technology development, manufacturing and solar power generation. A prime regional asset is the UA TechPark's "Solar Zone," an interdisciplinary and collaborative hub for researchers and industry to develop and promote renewable energy. UA also created Arizona Research Institute for Solar Energy (AzRISE) to foster and further promote collaborative efforts among academia, national labs, and private industry.
The Tucson region attracts solar system component manufacturing companies that support a wide range of solar industry needs from research and development to the manufacturing of mounting systems and solar modules. This brings together potential partners to share labor force skills, technology transfer, and industry knowledge. World-class solar industry companies such as SOLON, Schletter, Bell Independent Power, Global Solar, FRV, CTC Electric, Emcore, Foresight/Solar Point, Amonix, and Prism Solar have developed operations in the Tucson area to take advantage of the proximity to vendors, suppliers and major consumer markets throughout the Southwest and West.
The region's location is ideal as a distribution center for Mexico and California in particular. Only 64 miles from Mexico, 113 miles from Phoenix and within 450 miles of Los Angeles, Tucson is close to major business and consumer markets – key for any company.
Tucson has a lower cost of living compared to other major metropolitan areas and is considered to be one of the most affordable places to live in the West. In addition, Arizona's worker's compensation and unemployment insurance costs are among the lowest in the U.S. and Arizona's tax structure is competitive and business-friendly. With lower corporate taxes and lower payroll costs, businesses in Tucson gain a competitive advantage.
There are several state, local and utility incentives available such as the Green Building Incentive and the Solar Energy Property Tax Exemption. The region also has numerous solar advisory councils, as well as government, community, civic and business organizations dedicated to the development of the solar industry including:
* Pima County Solar One Stop Site
* Arizona Solar Center
* Arizona State Department of Commerce Energy Office
* Arizona Utilities Renewable Energy Education
* Tucson Metropolitan Energy Commission
* The Environmental Education Exchange
* Citizens for Solar
* Environmental Technology Industry Cluster
Arizona has continued to aggressively build a portfolio of solar industry incentives, from manufacturing to installation to energy production. Some of these include:
Renewable Energy Tax Incentive Program
Commercial / Industrial Solar Energy Tax Credit Program
Solar Research, Development, Production Tax Credit (SB 1254)
Solar Liquid Fuel Tax Credit (HB 2370)
TREO would be pleased to provide additional information to you on any aspect of assisting you with your company's strategic expansion into the Southwest. Please contact Michael Guymon at 520/243-1909 or 520/260-3666.
Featured Product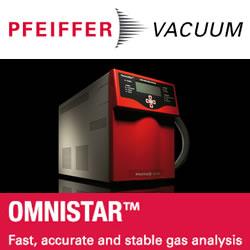 The Pfeiffer Vacuum OmniStar benchtop analysis system offers you a compact footprint, powerful software and Ethernet connectivity. It's the optimum solution for many real-time gas analysis applications. With the OmniStar, Pfeiffer Vacuum offers you a complete solution for gas analysis, in chemical processes, semiconductor industry, metallurgy, fermentation, catalysis, laser technology and environmental analysis. The turnkey OmniStar gas analysis system consists of heated, temperature-regulated gas inlet system, Quadrupole mass spectrometer, a dry diaphragm vacuum pump and HiPace turbopump. Unlike competing methods such as FTIR, OmniStar is suitable for qualitative and quantitative analysis of most gases.