The new light-weight mounting system brings PV installations to weight-limited roofs
• Designed by an aeronautical engineer to leverage aerodynamic forces

• Minimizes ballast requirements, eliminates penetrations and improves yield
• Brings solar to roofs that previously couldn't support PV system weights
Denver, Colorado - Dallas, Texas, October 13, 2011 – At Solar Power International, Conergy will preview its new aerodynamic mounting system, the SolarFamulus Air, which was designed by an aeronautical engineer. By leveraging aerodynamic forces, the SolarFamulus Air reduces the ballast requirement for the entire array and the need for roof penetrations is completely eliminated or significantly reduced. The SolarFamulus Air is the newest addition to Conergy's complete mounting system portfolio.
By applying the design concepts of aerodynamics to mounting system, Conergy is able to significantly advance flat roof mounting systems. Unlike typical flat roof mounting systems that are engineered to use ballast to compensate for the uplift, the design concept of the SolarFamulus Air is analogous to the design of a spoiler of a car. This means that, like the spoiler of a car, the mounting system actually reduces uplift forces by "spoiling" the airflow.
Since many commercial flat roofs have weight limitations or do not have the structural strength to support conventional PV installations, until now this solar market segment has been significantly restricted. Conergy's design advance with the SolarFamulus Air allows these weight-limited commercial flat roofs to deploy solar energy and greatly expands the commercial rooftop solar market.
As a full system supplier, Conergy designed the SolarFamulus Air with the optimization of the entire PV system as a central design concept. The SolarFamulus Air has venting windows that allow wind and convection to cool the back of the modules which promotes increased module performance. As with all of its mounting systems, Conergy designed the SolarFamulus Air with the goal of bringing value to the entire supply chain. Some key features of the product are its fast and easy installation with only 5 steps and 6 components and its stackable rail profile which lowers shipping and storage costs.
Visit the Conergy booth, number 1111, at Solar Power International for a sneak peak of the SolarFamulus Air.
Conergy Mounting System Portfolio.
Conergy designed its mounting system portfolio by evaluating each step of the project, from shipping and inventory to installation and switching costs, in order to decrease the total install time and cost, while improving the profitability of the total PV system throughout the value chain. Conergy's mounting system portfolio is a synchronized system in order to make it easy for crews to quickly and easily learn the entire portfolio. All Conergy systems have high parts commonality and low tool and part count. The smart engineering includes extensively pre-assembled and pre-drilled parts, significantly decreased parts counts, flexible designs and standardization of components to speed installation time, lower total installation cost and reduce complexities in design, logistics and installation.
About Conergy
As a full system manufacturer, Conergy Group delivers solar energy systems from a single source and offers all services under one roof.
Through deep-rooted operations in 18 countries, Conergy System Sales sells premium Conergy products to customers in nearly 40 countries worldwide. Conergy supports homeowners, installers, wholesalers and investors in their efforts to "go solar". With local sales activities on five continents, Conergy has close relationships with all its customers. Listed on the Frankfurt stock exchange, Conergy employs more than 1,700 people worldwide. Since Conergy's founding in 1998, it has produced and sold more than 1.5 GW of clean solar power, and developed over 500 MW of solar parks.
Conergy's Solar Large Projects Group manages the planning, financing, installation, monitoring, and ongoing operations and maintenance for turn-key solar projects across the globe. Conergy;s broad project expertise ensures maximum performance from every Conergy power plant..
Through its acquisition of well-established local companies, Conergy began operating as a distributor and project developer in North America in 2005 and currently has five offices, four warehouses and three production sites in the region. In North America, Conergy is both a manufacturer and wholesaler. Conergy manufactures mounting systems in Sacramento, CA. In Ontario, Canada Conergy produces modules and mounting systems that meet local content requirements for the Provincial FIT. Conergy offers innovative products and tailored services to its North American network of system integrators and project developers. Through these activities, Conergy maintains expert knowledge about local market conditions and requirements.
Please contact us if you have any questions or requests.
Featured Product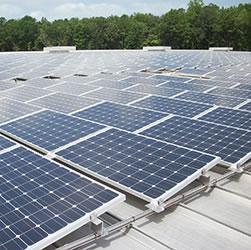 The Power Rail™ Commercial Mounting System is designed with the professional PV solar installer in mind. Both the XD/UD and LD/MD rails feature single tool assembly with the revolutionary patented RAD™ Lock-in-Place bolt for fast and secure module clamping. The high strength marine-grade aluminum rails include an integral wiring channel for securing cables and providing a professional finish.