Partnership develops guidelines for environmental analysis, scheduled webinar will highlight Contest theme and Rules & Guidelines
Washington, D.C. – October 19, 2011 – The Hydrogen Education Foundation announces the support from the U.S. Environmental Protection Agency's Combined Heat and Power Partnership to provide analytical guidelines for student teams to develop a comprehensive environmental impact assessment for the 2012 Hydrogen Student Design Contest.

Through the Contest, student teams will demonstrate their talents in engineering, architecture, marketing, and entrepreneurship. Last year, the Contest attracted 47 teams from 17 countries and five continents, including seven teams from the top 20 engineering schools in the U.S.
The 2012 Hydrogen Student Design Contest challenges teams of students to develop a design for a combined heat, hydrogen, and power system at their university campus. The Contest requires all participating teams to conduct a number of analyses, including the availability of organic resources, economics and environmental impact.
"This Contest is a great way for students to learn about the great potential and environmental benefits of combined heat and power systems," said Gary McNeil, of the EPA CHP Partnership, "We're glad to support it."
A webinar to be held on October 25, a week before registration closes, will go over the Rules and Guidelines of this year's Contest, and allow student to ask questions. Interested students and professors can register at www2.gotomeeting.com/register/729077426.
In addition to the EPA CHP Partnership, this year's Contest is supported by the U.S. Department of Energy, the International Association for Hydrogen Energy (IAHE), and the World Hydrogen Energy Conference 2012 (WHEC2012).
The Grand Prize Winning team will travel to Toronto, Canada to present their winning entry to hundreds of industry professionals from around the world in a session at the international biannual WHEC2012. A full description of prize packages can be found online at www.HydrogenContest.org.
Registration is now open for teams of university students worldwide at www.hydrogencontest.org. Teams must register and provide a brief abstract by November 1, 2011. For more information on the Contest, please contact:
Emanuel Wagner, Hydrogen Education Foundation
ewagner@ttcorp.com
+1-202-223-5547 x360
# # #
About the Hydrogen Student Design Contest
Organized by the Hydrogen Education Foundation, the annual Hydrogen Student Design Contest challenges university-level students to develop innovative solutions to key issues facing the hydrogen and fuel cell industries. The Contest showcases the talents of students in many disciplines, including engineering, architecture, marketing, and entrepreneurship. www.HydrogenContest.org
About the Hydrogen Education Foundation
The Hydrogen Education Foundation promotes clean hydrogen energy technologies through student scholarships, innovative national competitions, and educational programs to encourage environmental stewardship, improve energy security, and create green jobs. www.HydrogenEducationFoundation.org
Featured Product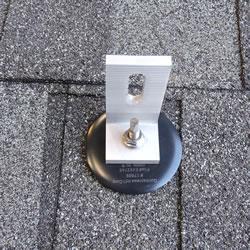 The QuickBOLT is THE affordable mounting solution for Asphalt Shingle Roofs. Not only is it the lowest cost system in the industry, it also maintains the fastest install time of any mounting system available. Unlike other Asphalt Mounting systems that require bulky flashing, the QuickBOLT uses a small EPDM washer and is 100% waterproof! Part # 17672