CANTON , MI (October 26, 2011) —Danotek, a leader in the development and manufacture of highly efficient and reliable permanent magnet (PM) generators and power converter systems for the global wind energy market, has passed a major milestone in the company's growth following initial successful up-tower operation of its PM generators by a leading wind turbine OEM.

The milestone, which represents the first up-tower validation of Danotek's PM generator technology, was accomplished following extensive in-house testing at the Danotek facility and installation into a Minnesota-based multi-megawatt wind turbine.
The installation and testing of Danotek's PM generators is being conducted in conjunction with the Eolos Wind Research Project, a wind research consortium formed by the University of Minnesota, Illinois Institute of Technology in Chicago, and the University of Maine, to support wind energy technology research, development, and career education focused on increasing wind turbine performance and reliability, and helping to train the next generation of wind power industry engineers.
The satisfactory initial operation of the PM generators is a prelude to a comprehensive field test procedure that will continue into early 2012. Upon passing the three to four month up-tower test program, work on delivering an initial volume of PM generators is expected to commence.
Speaking from the Eolos Wind Research Station's commissioning ceremony yesterday - Don Naab, Danotek's President and CEO, said "Successful facility and up-tower testing is a major achievement that validates Danotek's approach to the design of PM generators. It represents the culmination of two years of advanced development, design, and test work by our team of industry-leading technical specialists. We're proud to be supporting the Eolos project and are confident that our PM generators will make a major contribution to increasing both the performance and reliability of the consortium's wind turbine generator."
Compared with traditional generator technologies, PM generators enable higher efficiencies at part-loads, a significant advantage for wind turbines that often operate at loads below their rated output due to variable wind resources. PM generators developed by Danotek offer many additional advantages to wind turbine OEMs including higher efficiency at rated load, greater durability arising from maintaining low magnet temperatures, and extremely low cogging torque that enables a wind turbine to commence operations at lower wind speeds.
About Danotek Motion Technologies
Danotek Motion Technologies develops and manufactures highly efficient energy conversion systems for the wind energy and industrial markets. Danotek has patents pending on several innovative products, including permanent magnet (PM) generators and power electronics for wind turbines as well as variably speed propulsion and accessory drives for the electric and hybrid electric vehicle markets. The company is based in Canton, MI. For more information visit www.danotekmotion.com
Featured Product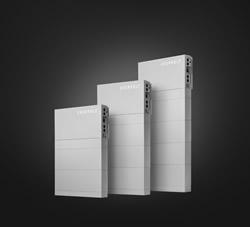 Extract maximum power production from every roof size and shape. HIT® AC Series combines the module efficiency of Panasonic solar panels with the intelligence of Enphase microinverters. A built-in IQ 7X microinverter with Individual MPPT (Module-level Power Point Tracker) tracking helps deliver an all-in-one module that offers design flexibility, reduced installation time, and a higher ROI. Field-replaceable microinverter with no DC wire management required yields lower cost of ownership.