Renewable energy provider Eco2 Wind has formed Merepark Eco2 Wind EIS Limited with developer, co-investor and asset manager Merepark, to build a £6 million onshore wind farm in North Aberdeenshire.
Renewable energy provider Eco2 Wind has formed Merepark Eco2 Wind EIS Limited with developer, co-investor and asset manager Merepark, to build a £6 million onshore wind farm in North Aberdeenshire.

The site is located on agricultural land near Turriff and will generate 2.1Mw via three wind turbines, generating enough electricity to power 4,200 homes.
Set to be operational early next year, the project has been funded through private equity, arranged in association with Enterprise Corporate Finance Limited and traditional bank debt from The Co-operative Bank.
The wind farm development has been granted planning approval from Aberdeenshire Council and terms have already been agreed for connection to the National Grid.
The project is being coordinated by Merepark Energy, part of the Merepark Group. Ongoing management of the wind farm will be provided by Eco2 Wind, which has a proven track record of delivering renewable energy projects across the UK.
Richard Peel from Merepark, which has commercial, residential and renewable assets under management with a gross development value of in excess of £200 million said: "Commercial property is the largest producer of CO2 emissions so it seems a very natural fit for us to explore development and income opportunities in this sector."
"This partnership plays to our strengths as experienced asset managers alongside Eco2's strong track record in the renewable market. We are confident this project will yield significant returns for our investors through Feed in Tariff (FIT) income."
Darren Williams from Eco2 Wind said: "We are delighted to have a continued involvement in this project going forward."
Merepark Eco2 Wind EIS Limited's board is made up of Richard Peel and Bob Ross, co-founders of Merepark, as well as Alfred Duncan, the landowner of the Aberdeenshire site and Darren Williams, director of Eco2.
Merepark and Enterprise have recently launched the Merepark Solar EIS Fund to benefit from solar photovoltaic generation and feed in tariff income from commercial 50Mw sites in the south of England.
For details of the solar fund please contact either Martin Sherwood or Christian Elmes from Enterprise Corporate Finance Limited on 0203 002 6152 or celmes@enterprisepe.com or Louise Ilhan from Merepark Energy on 0161 929 7662 or louise@merepark.co.uk
Ends
For more media information please contact Helen Strother at Paver Smith on 0151 239 5000 or email strother@paversmith.co.uk
About Merepark Group
Merepark was founded in 1993 and provides asset, development and management expertise. Today Merepark's tenants include many well-known national brands. Larger mixed use projects have included The Quadrangle in Manchester, with a gross development value of over £60 million, and Central Village, Liverpool with a gross development value of over £160 million.
Merepark's aim has always been to procure developments and investments of high quality.
About Merepark Energy
Merepark Energy is an innovative energy company specialising in sustainable approach to generating energy. Current projects utilise the latest technologies including wind, tri-generation and solar energy projects.
The company was founded in 2010 to contribute to the Government's renewable energy target of 15% of all energy production to be from renewable sources by 2020.
Featured Product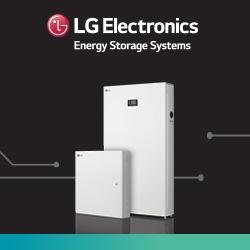 LG Solar is transforming today's solar landscape, offering precision-manufactured and high-efficiency solar panels for homeowners who demand high performance, reliability and consistently strong energy yield from a brand they can trust. LG modules feature outstanding durability, appealing aesthetics and high-efficiency technology, backed by a limited 25-year product, performance and labor (up to $450) warranty. Homeowners who purchase LG Solar modules know they're protected by a diversified global brand.