Award-winning HNU ENERGY has installed a modern solar PV system at the Maui Food Bank. Thanks to HNU ENERGY, up to 100% of the energy consumed at the Maui Food Bank now comes from a clean, safe, state of the art, renewable energy system.
FOR IMMEDIATE RELEASE NOVEMBER 2, 2011

HNU ENERGY BRINGS SOLAR POWER TO MAUI FOOD BANK
MAUI'S TECH POWERHOUSE HELPS FEED MAUI'S HUNGRY
WAILUKU, MAUI, HAWAII: Award-winning HNU ENERGY has installed a modern solar PV system at the Maui Food Bank. Thanks to HNU ENERGY, up to 100% of the energy consumed at the Maui Food Bank now comes from a clean, safe, state of the art, renewable energy system.
Maui Food Bank provides nutrition to over 10,000 county residents each month, many on a regular basis. "Reducing our electric bill by $50,000 annually helps us provide more food to those most in need in Maui County," said Rich Yust, Maui Food Bank's Executive Director. "With a 30% increase in the need for food since the 2008 recession, we turned to solar PV as a means to significantly reduce our operating costs," Yust continued.
Funded by Maui County's Community Development Block Grant program, the compact, highly efficient solar PV system generates 89.7kW of AC power. The innovative system was custom designed by HNU ENERGY's engineers in conjunction with Morikawa & Associates, Consulting Engineer, and F & H Construction, General Contractor.
"We are thrilled to help our Wailuku neighbors the Maui Food Bank do even more to help feed the hungry in Maui County," said Dan O'Connell, CEO of HNU ENERGY. Six of HNU ENERGY's highly skilled technicians completed the installation at the end of September. "HNU's team managed the transition to PV in a professional, courteous, and cooperative manner. With their efficient planning, we kept operational down time to an absolute minimum," said Yust.
Maui County's winner of the statewide Hawaii Business Innovation Showcase Award and ranked in the Top 10 this year by Pacific Business News in their July 2011 annual ranking of "Hawaii's Fastest 50", parent company HNU PHOTONICS is one of the fastest growing small businesses in the state. With 15 commercial and two dozen residential projects currently in the pipeline across the state, HNU ENERGY has increased its installation team by 50% (from 20 to 30) over the past 12 months.
Additionally, HNU PHOTONICS has employed more than 30 student interns from the University of Hawaii Maui College over the past five years. "We have a deep commitment to Hawaii's next generation of renewable energy technicians," says CEO Dan O'Connell. "Our student interns learn real world skills to land good jobs in Hawaii while sharing their abilities and enthusiasm with our team."
HNU ENERGY's unique organization as a vertically integrated research, design, fabrication, testing, and marketing facility enables it to nurture technological innovations in house, from concept to finished product. Research breakthroughs by HNU ENERGY have lead to pioneering innovations from the highest quality LED lighting products, to concentrated photovoltaic panels, to utility-scale storage systems based on Lithium battery chemistry, the highest energy density storage available.
One of the most widely licensed photovoltaic contractors in Hawaii and an award-winning leader in solar energy technology, HNU ENERGY specializes in complex, cutting edge, renewable energy systems powered by custom design and proprietary engineering. Its team of highly skilled engineers, researchers, and technicians, many of whom hold advanced professional degrees and have authored patents, draw upon decades of experience and accumulated wisdom in renewable energy and related fields.
FOR FURTHER INFORMATION CONTACT:
Monica Kelsey
HNU Photonics
1765 Wili Pa Loop
Wailuku, HI 96793
808-244-7811
info@hnuenergy.com
MAUI FOOD BANK'S NEW SOLAR PV INSTALLATION (Erick Acidera photos)
Richard Yust, Executive Director
MAUI FOOD BANK
Dan O'Connell, CEO
HNU ENERGY
Featured Product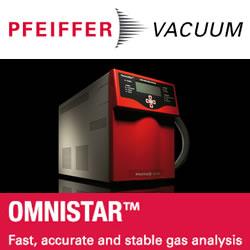 The Pfeiffer Vacuum OmniStar benchtop analysis system offers you a compact footprint, powerful software and Ethernet connectivity. It's the optimum solution for many real-time gas analysis applications. With the OmniStar, Pfeiffer Vacuum offers you a complete solution for gas analysis, in chemical processes, semiconductor industry, metallurgy, fermentation, catalysis, laser technology and environmental analysis. The turnkey OmniStar gas analysis system consists of heated, temperature-regulated gas inlet system, Quadrupole mass spectrometer, a dry diaphragm vacuum pump and HiPace turbopump. Unlike competing methods such as FTIR, OmniStar is suitable for qualitative and quantitative analysis of most gases.