Solar Energy USA, Georgia's largest residential solar provider, was recently recognized by the Sierra Club as an officially Green Checked business based on sustainable organization practices and environmentally friendly products and services.
The corporate office of Solar Energy USA is located in Alpharetta, Georgia, just north of Atlanta, and is powered by 100% renewable solar energy. The organization takes careful steps to minimize their environmental footprint by reducing waste and recycling, and conserving water, materials, and energy usage. Other key business practices include educating customers on home energy consumption and simple ways to use less energy within the home, as well as renewable energy options like photovoltaic (PV) solar panels, solar thermal systems for hot water, and incentives available for adopting a clean energy lifestyle. Members of Solar Energy USA drive hybrid vehicles and have plans to upgrade to electric vehicles (EVs) like the Nissan Leaf and Chevy Volt. The company has plans to install a solar powered EV charging station and offer free charging at the main office in North Georgia in early 2012.

Solar Energy USA's reach is widespread. They are a national company with offices from California to South Carolina and making smart business choices at the corporate level filters down to each location. Their solar energy systems are made from 100% American made materials including solar panels, thermal collectors, microinverters, and other racking and hardware components. Photovoltaic (PV) solar sales in the state of Georgia are sourced from a local manufacturer.
About Sierra Club Green Home
Sierra Club Green Home is a division of the Sierra Club which was founded in 1892 around ideals of safe, smart, and healthy communities. The Green Home program was developed with a simple mission in mind: to help Americans make their homes more energy efficient, environmentally sustainable and healthy. The endorsement shows that Solar Energy USA leads by example in the green business realm.
Featured Product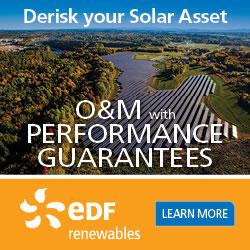 EDF Renewables offers the same innovative solutions that maximize the performance of our own 5.2 GW of installed projects. Because we're not an equipment manufacturer, our recommendations are transparent and data-driven. We cover the entire project lifecycle: from pre-commissioning support, through warranty and post warranty operation, to late stage and decommissioning.