From December 7–9, 2011, for the first time, the international solar industry assembling at Beijing's China National Convention Center for Intersolar China, where the event makes its inauguration to the upcoming solar market in Eastern Asia.
Intersolar China, which is being held from December 7–9, is a continuation of the successful Intersolar exhibition series, the world's leading exhibition series for the solar industry. Intersolar China in Beijing is the fourth event, joining Intersolar Europe in Munich, Intersolar North America in San Francisco and Intersolar India in Mumbai. It showcases all areas of solar power generation as well as the entire supply chain – from production through distribution to project development – including raw materials, production technologies, solar cells, photovoltaic modules, systems technology and components.

Latest trends and product innovations at the Innovation Exchange
Those wanting to discover the solar industry's latest trends and newest products should go along to Intersolar China's Innovation Exchange, which provides an excellent, concise overview for visitors and exhibitors. Here, exhibitors are given fifteen minutes to present their latest innovations, after which experts from each company remain on hand to give further information.
Launch into new markets with expert know-how
On the second day of the exhibition, the Innovation Exchange is hosting the 1st Chinese PV Briefing and Networking Forum in cooperation with the Joint Forces for Solar initiative. Joint Forces for Solar is a global network that aims to assist the development of the international solar market with support from Intersolar. Companies that have little or no experience with the Chinese and/or European and American markets, but are considering expanding, can find out all they need to know at the forum to make this happen. The forum not only provides basic information on the respective markets and how they are developing, but also addresses legal aspects. Furthermore, it presents the risks of expansion and how to avoid them through collaboration. At the same time, the forum is the perfect place to forge new contacts and expand and strengthen existing business networks.
Expert meetings at the Intersolar China Conference
From December 6–8, the Intersolar China Conference consolidates and expands on the range of issues featured by the exhibition, with expert presentations and panel discussions focusing on key industry topics. Over 500 industry specialists from around the world are expected to attend the conference at the InterContinental Hotel in Beijing. The keynotes at the opening session on December 6 are being delivered by two renowned experts: Hans-Joachim Fell and Sunil Gupta. Hans-Joachim Fell is a member of the German parliament belonging to the Bündnis 90/Die Grünen party (Alliance 90'/The Greens) and contributed significantly to bringing about the German Renewable Energy Sources Act (EEG) that came into force in 2000. Sunil Gupta is a Managing Director of Morgan Stanley and head of the company's CleanTech division. He boasts many years of experience in the development of the CleanTech industry with a focus on technologies designed to reduce the effects of climate change.
Market developments, innovative technologies and sustainability
In addition to the latest developments in international solar markets, conference attendees also focus their attention on technological advances. In collaboration with the VDMA German Engineering Federation, production innovations, including new machinery, laser concepts and production equipment for highly-efficient solar cells, are being presented at the conference. Innovative automation solutions and resource efficiency are also being discussed. The spotlight is equally being shone on the topic of sustainability in PV production. Together with the PV Cycle initiative, the voluntary take-back and recycling program of the p hotovoltaic industry, the conference addresses the recycling of end-of-life solar modules. The German Chamber of Commerce in Shanghai is presenting solutions for the environmentally-friendly production of photovoltaic components, and the construction and operation of solar power plants also feature on the conference agenda. This theme focuses on aspects of system design, implementation, quality assurance, project development as well as solar plant operation and maintenance.
Further information on Intersolar China can be found at www.intersolarchina.com.
About Intersolar
With over 3,400 exhibitors and more than 110,000 visitors spanning three continents, Intersolar is the world's leading exhibition series for the solar industry.
From 2011, Intersolar China will be held annually in Beijing. As an international solar exhibition, Intersolar China brings together all solar energy technologies and the entire supply chain.
With its international exhibitions and conferences, Intersolar looks back on a success story spanning almost twenty years. Taking place in addition to Intersolar China in Shanghai are Intersolar North America in San Francisco and Intersolar India in Mumbai. The world's largest exhibition for the solar industry is Intersolar Europe in Munich.
Intersolar Europe is organized by Solar Promotion GmbH, Pforzheim, and Freiburg Wirtschaft Touristik und Messe GmbH & Co. KG. The exhibitions in North America and India are organized by the international subsidiaries Solar Promotion International GmbH, Pforzheim, and Freiburg Management und Marketing International GmbH (FMMI). Intersolar China is organized by Solar Promotion International GmbH and FMMI in cooperation with MMI (Shanghai) Co. Ltd.
Featured Product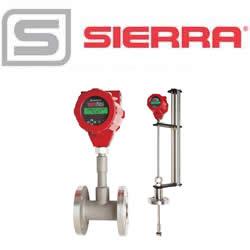 Sierra was the first to introduce a combination volumetric vortex and multivariable mass flow meter in 1997. Today, Sierra's completely redesigned InnovaMass® iSeriesâ"¢ 240i/241i builds on two decades of success measuring five process variables for gas, liquid and steam with one connection. Now, with the latest hyper-fast microprocessors, robust software applications, field diagnostic and adjustment capability, and a new state-of-the-art flow calibration facility, Sierra's vortex iSeries delivers precision, performance, and application flexibility never before possible.