Clean Energy Future bill is passed by the Senate
Horb a.N., Germany / Australia, November 15, 2011. The Australian government is planning to reduce the country's CO2 emissions by a minimum of 160 million tons by 2020 - this decision was made in early November. As a consequence of the legally stipulated shift towards renewable energies, DEGERenergie is expecting a major surge in demand for its MLD tracking systems on the Australian market. In early November, DEGERenergie has put its production facility in the Australian state of Victoria into operation.

To make these ambitious CO2 reductions possible, the Australian government will take two very effective actions: First, a carbon tax is to be introduced in July next year and second, ten billion Australian Dollars will be invested to support companies and projects committed to "green" technologies.
According to Christopher Seng, international sales manager of DEGERenergie, the carbon tax will increase the appeal of alternative energy generation to investors and self-suppliers in the years to come: "The worldwide most efficient way to generate clean solar energy is to use MLD tracking systems from DEGERenergie. That's why we expect the demand for our tracking systems in Australia to rise considerably in the years to come."
DEGERenergie production up and running in Australia since beginning of November.
To be able to best cater to the expected rising demand from Australian customers, DEGERenergie has put its production facility in Wodonga, Victoria into operation in early November. Currently, DEGERtraker systems of the types 5000HD and 6000NT are being manufactured here, with the first batch already being sold.
Christopher Seng: "With its 'Clean Energy Future' initiative, the Australian government takes the lead in terms of the global energy turnaround. This is all the more remarkable since the local renewable energy market has recently been shaken up by drastically reduced feed-in tariffs and general uncertainty. Now, market observers and investors are expecting a steady and healthy growth of the industry. We are convinced that our MLD technology will play a crucial role here."
Australian energy providers have already reacted to the new carbon tax, with some of them raising their prices by more than ten percent in the past weeks. Christopher Seng: "For the next years, local experts expect the price for energy from public grids to increase by around 10 percent per year. This is making grid parity, the moment when the cost of self-generated energy equals that of energy from the grid, move closer quickly. It is highly probable that, in the near future, renewable energy will be cheaper than conventionally generated electricity."
Ten billion dollars for sustainable energy technology.
In addition to the carbon tax, the Australian government has decided to introduce a Clean Energy Finance Corporation (CEFC), which is to be backed up by financial support amounting to 10 billion Australian Dollars. Function of the CEFC will be to support and fund projects committed to the development and commercialization of "green" technology. Relevant in this context are above all the fields of renewable energy, systems for the efficient use of energy as well as the reduction of CO2 emissions. The launch of the CEFC is scheduled for 2013 or 2014 and investments are planned for companies and projects relying on such technologies and/or business models dedicated to the corresponding objectives.
Christopher Seng: "A part of the funds available to the CEFC will flow into projects and companies from the photovoltaics industry. This way, the path has been cleared for a sustainable and reliable market that is not driven by short-lived feed-in tariffs but the most efficient methods of generating cheap green energy."
DEGERenergie is the global market leader for solar tracking systems. Worldwide, approximately 45,000 DEGERenergie systems have been installed in over 45 countries. The company is also represented in Spain, Greece and North America with its own subsidiaries and cooperates with local distribution and service partners in many countries across the world. The patented DEGERenergie Maximum Light Detection (MLD) technology makes it possible to improve the energy yield of solar power plants by up to 45 percent compared to fixed systems.
For more information: www.DEGERenergie.com.
About DEGERenergie (www.DEGERenergie.com):
DEGERenergie is the leading manufacturer with the world's largest product range of single and dual-axis solar tracking systems. The company's market position is based on the unique patented Maximum Light Detection (MLD) technology developed by Artur Deger, which makes it possible to maximize the yield of solar power plants with an "intelligent" control. With the DEGERconecter, the solar modules are always aligned according to the brightest position in the sky with the highest energy yield. This way, the overall energy yield of solar power plants with MLD tracking is up to 45 percent higher than that of fixed systems and this difference is even more pronounced for peaks. With approximately 45,000 systems installed in more than 45 countries, DEGERenergie is the global market and technological leader. The company offers its customers all product related solutions – from the development and planning, production and sales to maintenance and service.
In its headquarters in Horb (Germany), its subsidiaries and supplier companies, DEGERenergie is currently employing a staff of nearly 400. The company was founded in 1999 and in 2001 won the Inventor Award of the German state of Baden-Württemberg for the MLD control module DEGERconecter. In 2005, DEGERenergie opened its first subsidiary in Spain, followed by subsidiaries in the USA and Greece in 2009. Additional business locations are planned for 2011. The company's production sites are located in Germany, Canada and the USA. CEO is Artur Deger.
You can't always rely on the weather. But you can rely on an intelligent control system from DEGERenergie.
Featured Product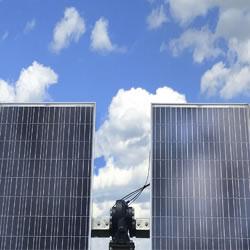 Solar FlexRack's latest solar tracker technology bundles an advanced tracker design with a full team of seasoned engineering and installation experts at your service. The next-generation solar tracker delivers a package of features that both enable increased energy yields for commercial and utility-scale solar installations, and significantly reduce project risks. That translates to smart installation cost-savings across your project budget.