Leveraging one of the largest consolidated downstream solar companies in the U.S.
SANTA CLARA, Calif., November 17, 2011 – Solar Frontier announced today that it has signed a distribution agreement with Mainstream Energy to sell and install 5 megawatts (MW) of Solar Frontier's CIS modules beginning in the fourth quarter of 2011. The agreement with Mainstream Energy provides Solar Frontier with a significant presence throughout the United States.
"Mainstream Energy's mission is to bring solar to the mainstream by making solar easy and affordable to a wide range of customers, with excellent quality, service and cost," said Ethan Miller, Vice President of Operations for Mainstream Energy. "Solar Frontier will enhance our ability to deliver on this promise with Solar Frontier's exceptionally high-quality economical and ecological CIS modules. These modules also happen to be among the most aesthetically pleasing, thanks to their all-black appearance."
Mainstream's success has been built through an integrated business model combining financing services, sales, design, installation, service, and monitoring of complete solar electricity systems with value-added distribution of solar products, deep engineering talent and support, and the development of proprietary market-leading downstream products. With turnkey solar electricity systems for residential, commercial, government and utility customers, and a network of more than 3,000 independent installers in the U.S., Mainstream Energy has installed more than 100 MW of PV and over 7,500 completed system installations since 1997.
"This agreement is a great milestone for Solar Frontier's operations in the U.S.," said Greg Ashley, chief operating officer of Solar Frontier Americas. "We believe that the U.S. solar market has great potential for growth, and Mainstream represents an acceleration of Solar Frontier's expansion in the United States, especially as more and more customers recognize the superior value of kilowatt hours performance over kilowatt peak ratings."
The CIS thin-film modules that will be used in the distribution agreement are produced with Solar Frontier's proprietary technology at the world's largest CIS factory in Miyazaki, Japan. The solar panels produced by this factory have the highest energy conversion efficiency of any thin-film PV available in large volumes. Known for the extreme high quality manufacturing standards of Japan's best manufacturers, and high performance in a wide range of climates, the modules have been installed on thousands of rooftops and large-scale power facilities all over the world.
About Solar Frontier
Solar Frontier, a 100% subsidiary of Showa Shell Sekiyu K.K., established the world's first gigawatt-scale CIS module factory in 2011 with a mission to create the most economical, ecological solar energy solutions in the world. Solar Frontier's proprietary CIS technology, denoting key ingredients copper, indium, and selenium (in addition to gallium and sulfur), has the best overall potential to set the world's most enduring standard for solar energy. This is based on our legacy of work in solar technology since the 1970s, the priority focus our laboratories have given to CIS since 1993, and our success in large scale CIS commercialization since 2007. The critical factors that combine to make CIS the overall economical and ecological leader include high efficiency modules and production processes as well as superior ecology, reliability, stability, sustainability, and lower overall energy consumption in manufacturing to yield a faster energy payback time. These factors at gigawatt scale enable Solar Frontier to meet worldwide demand for the new standard in affordable solar panel performance. Visit www.solar-frontier.com for more information.
Showa Shell Sekiyu K.K.
Showa Shell Sekiyu K.K. is listed on the Tokyo Stock Exchange and has roots dating back more than 100 years in the downstream energy business.
About Mainstream Energy
Mainstream Energy, the parent company of AEE Solar and REC Solar, serves the downstream marketplace by leveraging tools, systems and expertise from the parent company to drive growth and excellence in quality, service and cost. AEE Solar is a full-service distributor offering a comprehensive range of solar and renewable energy products and services to support the growth of solar contractors, dealers and installers, primarily in North America. REC Solar Inc., established in 1997 in San Luis Obispo, California, is an industry leading solar power provider specializing in grid-tied residential and commercial installations. With a local presence in all major solar markets in the U.S. and thousands of kilowatts installed, REC Solar is committed to lowering the cost of solar power through efficient processes, innovative products and outstanding customer service.
Featured Product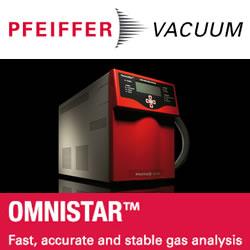 The Pfeiffer Vacuum OmniStar benchtop analysis system offers you a compact footprint, powerful software and Ethernet connectivity. It's the optimum solution for many real-time gas analysis applications. With the OmniStar, Pfeiffer Vacuum offers you a complete solution for gas analysis, in chemical processes, semiconductor industry, metallurgy, fermentation, catalysis, laser technology and environmental analysis. The turnkey OmniStar gas analysis system consists of heated, temperature-regulated gas inlet system, Quadrupole mass spectrometer, a dry diaphragm vacuum pump and HiPace turbopump. Unlike competing methods such as FTIR, OmniStar is suitable for qualitative and quantitative analysis of most gases.