ElcaMedia, the green marketing agency, announced today that it has won a prestigious platinum award from MarCom Awards USA
ElcaMedia, the
green marketing agency
, announced today that it has won a prestigious platinum award from MarCom Awards USA in the category Environmental Marketing for its booklet outlining Cradle to Cradle marketing strategies & approaches and
how to go green
.
The booklet was created to help businesses understand how to take the first steps in developing a Cradle to Cradle marketing strategy. The introduction was written by Prof. Dr. Michael Braungart, co-founder of the Cradle to Cradle methodology, who personally worked with ElcaMedia to train their consultants on the Cradle to Cradle concept.
This award follows ElcaMedia also recently winning the Summit International Awards platinum award for the world's first brochure to have received full Cradle to Cradle silver certification, the medium being the message.
Daan Elffers, Cradle to Cradle marketing consultant at ElcaMedia, comments: "Our inspiration for the booklet was simple. We wanted to help companies who are contemplating adopting green strategies for their business to think simply and proactively and to understand the immediate and long-term benefits of taking steps now."
ElcaMedia is the first marketing company in the world to employ specially EPEA trained and MBDC certified Cradle to Cradle marketing consultants. The company's core focus is developing and implementing sustainable corporate branding and concept development and advertising for environmentally responsible products and services worldwide.
About ElcaMedia
ElcaMedia is a specialist marketing communications agency assisting businesses how to go green, promoting the circular economy. Its experienced team is multinational and multilingual and the agency is globally active across a wide range of industries. Services include green branding and eco marketing campaigns, CSR – corporate social responsibility communications, sustainability reporting and GRI, corporate identity development and green product launches.
ElcaMedia is the world's first marketing communications consultancy to have Cradle to Cradle marketing consultants authorised by EPEA and MBDC (William McDonough, Michael Braungart). ElcaMedia has offices in London, Amsterdam and New York. For more information visit:
www.elcamedia.com
Media Contact Details
Name: PR & Communications Department
Company Name: ElcaMedia BV
Telephone Number: 31235689126
Email: communications@elcamedia.com
Featured Product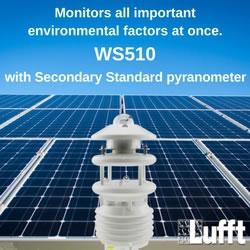 First and only Smart Weather Sensor with integrated Kipp & Zonen CMP10 Pyranometer (secondary standard). From the WS product family of professional intelligent measurement transducers with digital interface for environmental applications. Integrated design with ventilated radiation protection for measuring: Air temperature, relative humidity, air pressure, wind direction, wind speed and radiation. One external temperature or rain sensor is connectable.