Munich, 29 November 2011. On June 13, 2012, Intersolar Europe - the world's largest exhibition for the solar industry – once again opens its doors at the Munich New Trade Fair Centre in Germany. Exhibitor registrations are already flooding in and the preparations are in full swing.
In view of the global changes in the solar industry, Intersolar Europe 2012 aims at opening up new markets, identifying technological potential and creating even closer ties between companies. The international photovoltaics industry in particular is currently unsettled by changes in the political and economic situation. The sector's current development is strongly affected by the increasingly fierce global competition and the consolidation of the industry. The self-confessed aim of the industry is to make photovoltaics independent of subsidies and able to produce solar power at a competitive price.

Effective use of cost cutting potentials in photovoltaics
The focus of attention is on the cost cutting potentials in photovoltaics. For solar power to become competitive, costs must be reduced along the entire value-added chain. In return, the industry will be rewarded with promising market opportunities worldwide. Innovative means and methods of production enabling the efficient use of resources and the production of efficient products are an important step into this direction. At the same time, the price and quality of the materials used play an increasingly important role.
This attributes PV production technology a key role in the future of photovoltaics both in Germany and globally. In response to this development, for the first time Intersolar Europe and SEMI PV Group, the global industry association of equipment and material manufacturers specializing in photovoltaics, have reserved two halls for this sector. Heinz Kundert, President of SEMI PV Group Europe in Berlin, comments: "The world's largest and leading exhibition for solar technology and production, Intersolar Europe 2011, has once again asserted itself as the globally leading platform for the entire value-added chain of the solar industry, and I am expecting it to be just that in 2012. Public response has shown that the dialog between cell or module producers and equipment and material manufacturers about technology and production efficiency is greatly appreciated. Once again, we are expecting the participation of leading international solar companies and many decision makers from around the world.
Exhibitors are showing production machinery, materials and equipment in halls A5 and A6: Exhibitors from around the globe are presenting the state of the art in areas as diverse as coating technology, surface machining and complex production systems.
Tightening the network of related industries
The increasing demand for ever more efficient production methods has turned photovoltaics into an attractive market for machine and equipment manufacturers. To bring the industries even closer together, the VDMA's association platform for photovoltaic equipment is supporting Intersolar Europe as of 2012.
"The cooperation with Intersolar Europe opens up a whole range of opportunities for our industries to collaborate – manufactures with mechanical engineers, and mechanical engineers amongst each other. The German photovoltaics engineering industry has achieved a strong position in the global market by setting up consortiums which enable the adaptation of specialized machines while offering both concepts for product lines and overall solutions. The presence of the entire value-added chain offers practical benefits for exhibitors and our member companies for meeting current and future challenges in production innovation. That is why we are very pleased to be one of the supporters of Intersolar Europe and are expecting a very exciting and dynamic exhibition," says Dr. Eric Maiser, managing director of VDMA photovoltaic equipment.
PV production technology receives more attention also at Intersolar Europe Conference
The cooperation with the SEMI PV Group and VDMA also gives additional impact to the Intersolar Europe Conference. Following the setting up of the Conference Committee for Photovoltaics and Solar Thermal in 2011, representatives of both associations are forming a Conference Committee for PV Production Technology in 2012. Conference Chairman for this sector is Dr. Peter Fath, CTO of Centrotherm Photovoltaics AG, Blaubeuren and chairman of VDMA Photovol-taic Equipment.
As is the case for Photovoltaics and Solar Thermal, Chairman and Committee will be responsible for the contents of the Intersolar Europe Conference. This should further boost the quality of the conference program and ensure that both scientifically founded presentations and practical contributions are heard.
Intersolar Europe 2012 takes place from June 13 - 15 at the New Munich Trade Fair Centre.
For more information on Intersolar Europe please visit www.intersolar.de
Supporters of Intersolar Europe
Supporters of Intersolar Europe include the leading solar industry associations: the German Solar Industry Association (BSW-Solar) as an Exclusive Partner, the German Solar Energy Society (DGS), the European Solar Thermal Industry Federation (ESTIF), the International Solar Energy Society (ISES), the SEMI PV Group, and VDMA (German Engineering Federation) with the support of the European Photovoltaic Industry Association (EPIA).
About Intersolar
With over 3,400 exhibitors and more than 110,000 visitors spanning three continents, Intersolar is the world's leading exhibition series for the solar industry. Intersolar Europe takes place annually at the New Munich Trade Fair Centre. Today, it is the world's largest exhibition for the solar industry, and looks back on a history spanning twenty years.
In 2011, 2,286 international exhibitors and around 77,000 trade visitors were welcomed to Intersolar Europe. Intersolar Europe focuses on the areas of photovoltaics, PV production technology and solar thermal technologies. Since its founding, it has become established as the most important industry platform for manufacturers, suppliers, wholesalers and service providers. The accompanying Intersolar Europe Conference consolidates the topics of the exhibition. In 2011, more than 400 speakers and around 2,500 attendees discussed current industry topics and investigated the background of technological, market and political developments.
In 2008, Intersolar North America in San Francisco became the second exhibition after Intersolar Europe, followed by Intersolar India in 2009, which will be held in Mumbai from 2010. From December 2011, Intersolar China in Beijing will be added to the Intersolar portfolio.
Intersolar Europe is organized by Solar Promotion GmbH, Pforzheim and Freiburg Wirtschaft Touristik und Messe GmbH & Co. KG. The exhibitions in North America and India are organized by the international subsidiaries Solar Promotion International GmbH, Pforzheim, and Freiburg Management und Marketing International GmbH (FMMI). Intersolar China is organized by Solar Promotion International GmbH and FMMI in cooperation with MMI Asia.
Featured Product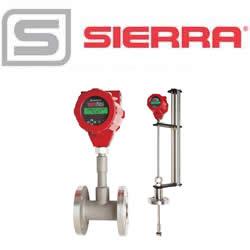 Sierra was the first to introduce a combination volumetric vortex and multivariable mass flow meter in 1997. Today, Sierra's completely redesigned InnovaMass® iSeries™ 240i/241i builds on two decades of success measuring five process variables for gas, liquid and steam with one connection. Now, with the latest hyper-fast microprocessors, robust software applications, field diagnostic and adjustment capability, and a new state-of-the-art flow calibration facility, Sierra's vortex iSeries delivers precision, performance, and application flexibility never before possible.