33 University Teams from 10 Countries Will Compete for the Grand Prize
WASHINGTON, DC - November 29, 2011 For the third consecutive year, the Hydrogen Student Design Contest has welcomed the most teams to ever participate in the competition. A record 33 university teams have completed the first stage of the Contest to develop a combined heat, hydrogen and power system for their university campus. All now qualify to compete for the grand prize: a trip to the 2012 World Hydrogen Energy Conference in Toronto to showcase their design to over a thousand industry professionals from around the world.

"This unprecedented participation from around the world shows that the younger generation wants to use fuel cells and hydrogen energy to solve America's energy challenges" said Jeff Serfass, President of the Hydrogen Education Foundation. "We need more energy professionals to recognize what these students already know: that fuel cells and hydrogen energy enable a clean energy portfolio, and are unparalleled in efficiency, cleanliness, reliability, versatility, and safety."
The 8th annual Hydrogen Student Design Contest, supported by the U.S. Department of Energy, challenges students to design a tri-generation system that yields heat, hydrogen, and power, while utilizing local resources.
Other supporters of this year's Contest include the Environmental Protection Agency's Combined Heat and Power Partnership, the International Association for Hydrogen Energy, and the World Hydrogen Energy Conference 2012.
For more information: www.hydrogencontest.org
# # #
Contact:
Emanuel Wagner
202-223-5547 x360
ewagner@ttcorp.com
About the Hydrogen Student Design Contest
Organized by the Hydrogen Education Foundation, the annual Hydrogen Student Design Contest challenges university-level students to develop innovative solutions to key issues facing the hydrogen and fuel cell industries. The Contest showcases the talents of students in many disciplines, including engineering, architecture, marketing, and entrepreneurship. www.HydrogenContest.org
About the Hydrogen Education Foundation
The Hydrogen Education Foundation promotes clean hydrogen energy technologies through student scholarships, innovative national competitions, and educational programs to encourage environmental stewardship, improve energy security, and create green jobs. www.HydrogenEducationFoundation.org
Featured Product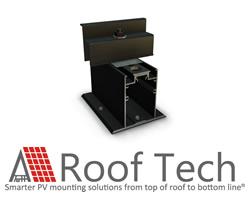 The most compact versatile rail-less PV mounting system under the sun. Instead of placing solar panels on top of long rails, simply attach E Mount AIR to rafters or the roof decking. Once panels are fastened to the roof, the system array is electrically bonded. The result is a visually seamless PV installation that stands the test of time. - Truly "One With The Roof". - PE stamped cert. letters available, UL 2703 Classified, ASTM 2140 fully waterproof. The one and only with integrated flexible flashing certified by the ICC! All the best quality. Only from Roof Tech