Geothermal Resources Council Annual Meeting will be held Sept. 30-Oct. 3 in Reno, Nevada. Theme is "Geothermal: Reliable, Renewable Global"
(Davis, Calif.) The Geothermal Resources Council issued a call for papers today with the announcement of the world's largest geothermal event taking place September 30-October 3, 2012, in Reno, Nevada, at the Peppermill Resort Spa Casino.

Themed "Geothermal: Reliable, Renewable Global" the Geothermal Resources Council (GRC) is the sponsor of the Annual Meeting.
The GRC Annual Meeting is the industry's largest annual gathering of leading geothermal energy scientists, geologists, academicians, producers, renewable energy industry stakeholders, regulators, utilities, and key associated business leaders.
The four-day event will offer technical, policy, and market conference sessions, educational seminars, a trade show exhibition, tours of local geothermal and renewable energy projects, and numerous networking opportunities.
The GRC 2011 Annual Meeting attendees came from 32 different countries around the world highlighting the GRC's role in connecting the global community. With increasing interest in geothermal as a reliable source of renewable energy, the GRC is looking ahead to an even stronger program in 2012.
Curt Robinson, GRC's executive director said, "The 2011 event was an extraordinary success. With over 2,000 attendees representing the geothermal industry and more than 150 vendors involved in various facets of business, the GRC engaged the growing global geothermal community."
The GRC 2012 Annual Meeting planning committee will consider papers for its Technical and Poster Sessions for these topics:
Conference Paper Topics
• Business Development / Finance
• Basin & Range / Cascades / Rocky Mountains
• Direct Use / Heat Pump
• Enhanced Geothermal Systems
• Exploration / Resource Assessment / Management
• Geology, Geophysics and Geochemistry
• Geothermal Energy Associated with Oil and Gas Operations
• Geothermal Project Case Studies
• International
• Power Operations / Maintenance / Production Technologies
• Regulatory / Environmental Compliance / Policy Issues
• Utility and Transmission Issues
Successful selection to present at the GRC 2012 Annual Meeting is prestigious and recognizes the presenter as a top industry expert. International participation is key to the success of the technical programs and geothermal researchers and experts from around the world are encouraged to submit their work for consideration to be presented at the GRC 2012 Annual Meeting.
Additional information about paper requirements and submission forms can be obtained by contacting the GRC at (530) 758-2360 or at geothermal.org.
For information on how to sponsor this event, contact Estela Smith, GRC, (530) 758-2360 or grc@geothermal.org.
###
About the Geothermal Resources Council:
With the experience and dedication of its diverse, international membership bolstering a 40-year plus track record, the Geothermal Resources Council has built a solid reputation as the world's preeminent geothermal association. The GRC serves as a focal point for continuing professional development for its members through its outreach, information transfer and education services.
####
Featured Product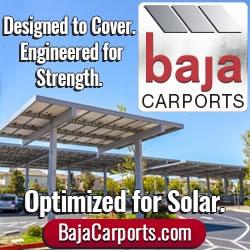 Baja Carports offers an extensive solar support system product line customized to customers' site specifications by in-house engineers, meeting their parking lot coverage, plus optimal PV production needs. Baja's Full Cantilever Tee is often paired with its Semi and Full Cantilever carports to meet live/loads up to 60psf and wind speeds to 160mph. All Baja products are pre-fabricated, bolted connections, pre-galvanized structural steel for fast on-site installation and project aesthetic requirements."