SMTC's Ontario Facility to Produce Enecsys Micro Inverters for All of Canada as Part of Ontario FIT Program
TORONTO, December 6, 2011 -- SMTC Corporation (Nasdaq: SMTX, TSX: SMX), a global electronics manufacturing services provider, and Enecsys Limited (www.enecsys.com), a premiere supplier of micro inverter products for the global solar market, announced today a partnership to produce Enecsys micro inverters for the Canadian market at SMTC's Markham facility located in York Region, Ontario. This enables Enecsys micro inverters to meet the Ontario Power Authority (OPA) Feed-in Tariff (FIT) domestic content requirement for renewable energy projects.

"Enecsys' smart solar micro inverter solutions have been installed on roofs of homes and businesses in Europe, the U.S. and now in Ontario, Canada," said Enecsys Executive Chairman, Mossadiq Umedaly. "We are very pleased to partner with SMTC to produce our micro inverters in Ontario for the Canadian market and to become part of the Ontario renewable energy community."
Enecsys' wide range of micro inverter products reliably convert and control the DC power generated by each solar module within a photovoltaic array installed on the roofs of residences and businesses into clean AC power for the electricity grid. Presently, solar systems using string inverters connect solar modules in series. This configuration does not maximize the energy harvest from the PV array as the system's performance will be limited to the lowest performing solar module, whose performance will be limited by common real world conditions such as partial shading caused by a chimney, vent, transient clouds, or debris. Enecsys micro inverter systems that are connected in parallel maximize the energy harvest from each module, increasing the system's total energy harvest from 5 to 20 percent depending on site-specific situations.
"This innovative partnership generates new, quality jobs and benefits our local economy while at the same time contributing to environmental sustainability," said York Region Chairman and CEO Bill Fisch. "It builds on the reputation of The Regional Municipality of York as a business innovation growth center for both advanced manufacturing and cleantech."
The partnership with SMTC qualifies Enecsys for Ontario's FIT program by meeting the "local content" requirement, which encourages business development, production and job creation in Ontario. SMTC has worked alongside regional government bodies to promote the OPA's FIT program for renewable electricity production. The program offers stable prices under long-term contracts for energy generated from renewable sources.
"The clean energy market is a major focus for SMTC's Markham, Ontario facility, and we're pleased that Enecsys has chosen us as their Canadian manufacturing partner," said Claude Germain, President and Co- Chief Executive Officer for SMTC. "We're committed to supporting the growth of the clean technology industry here in Markham by partnering with industry leaders like Enecsys, and we have made significant investments in capital equipment to complement our engineering expertise and dedication to FIT compliance."
About Enecsys
Enecsys Limited is the premiere supplier of smart, highly reliable grid-connected micro inverters and monitoring systems that offer an outstanding value proposition. The micro inverter converts and controls DC power generated by each solar module in the PV array into AC power for homes and businesses. The advantages of the Enecsys micro inverter system include: maximized energy harvest, improved safety for installers and users, increased reliability, a lifetime matching that of the solar modules, real-time performance monitoring for each solar module, and simplified PV array design and installation. Headquartered in Cambridge, UK, the company also has sales and support offices in Redwood Shores, California; Bad Homburg, Germany; and Taipei, Taiwan. For more information, please visit www.enecsys.com.
About SMTC
SMTC Corporation, founded in 1985, is a global provider of flexible and customized electronics manufacturing services (EMS) including PCBA production, systems integration and testing, enclosure fabrication, as well as design, engineering and supply chain management services. SMTC facilities span a broad footprint in Mexico, United States, Canada and China, with more than 1,800 full-time employees. SMTC services extend over the entire electronic product life cycle, from the development and introduction of new products through to the growth, maturity and end-of-life phases. SMTC offers fully integrated contract manufacturing services with a distinctive approach to global original equipment manufacturers (OEMs) and emerging technology companies primarily within industrial, medical, computing and communication market segments.
SMTC is a public company incorporated in Delaware with its shares traded on the Nasdaq National Market System under the symbol SMTX and on the Toronto Stock Exchange under the symbol SMX
Featured Product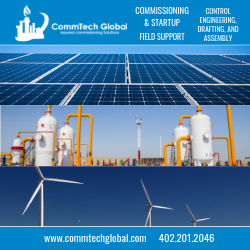 CommTech Global Solutions, LLC, provides professional and reliable commissioning services to customers in all realms of the energy industry. We blend our skills in engineering and technology with innovative business models, offering a complete range of services to assist you for a successful and in compliance operational startup. Consolidation of all our service domains gives our clients a comprehensive set of expertise and far-reaching experience on each project.