ImagineSolar Open House Unveils 2012 Solar Courses Including Smart Grid Training, Course Giveaways, and Discounts.
ImagineSolar Open House Unveils 2012 Solar Courses Including Smart Grid Training, Course Giveaways, and Discounts

Austin, TX -- ImagineSolar is hosting a Solar and Smart Grid Open House to introduce brand-new training courses for 2012. The Open House is Saturday, January 7, 2012 at 4000 Caven Road in Austin. The tour presentations are scheduled at 10:15am and 11:15am. Attendees will have five opportunities to win a free seat in ImagineSolar's PV Fundamentals course, a $295 value. They can also take advantage of a $90 special course package combining three popular PV Fundamental courses.
This Open House introduces ImagineSolar's new 8-hour Smart Grid course (SG101) and provides a behind-the-scenes tour of it in action at their Austin solar training facility. Professional engineers and other licensed professionals will earn Continuing Education Units (CEUs) for SG101 and are encouraged to attend.
In ImagineSolar's SG101 course, students will learn about the "Smart Grid", a big idea that will transform the way Americans generate, distribute and consume power. This new grid consists of a broad range of system-wide improvements that will make our electric grid smarter, more efficient, more reliable and safer. The concept is so huge that it will take decades to turn into reality, but the work has already begun. SG101 students will learn about the challenges facing today's electric grid and how smart grid technology addresses them. Course topics include: Smart meters, Smart homes, Demand response, Volt/VAR, Microgrids, PMU/Sensors, Electric vehicles, and Charging stations.
To kick-off 2012, ImagineSolar will be offering a special $90 discount on three introductory courses: PV150, PV160 and PV170. Their "PV Fundamentals Package" will be unveiled at the Open House and will give students an excellent understanding of designing and installing grid-tied and off-grid PV systems.
Another upcoming course is ImagineSolar's new Business Professional Series (PV250) covering all aspects of the NABCEP PV Technical Sales Job Task Analysis, cleaner generation technologies, and industry sales, marketing and customer service best practices.
Open House attendees will enjoy refreshments, mingle with other industry professionals, and hear presentations by Texas Green Network, Texas Solar Energy Society, Texas Renewable Energy Industries Association, and other solar industry leaders. The Open House will give attendees the opportunity to:
• Tour the ImagineSolar state-of-the-art Training facility and Solar lab
• Learn about Solar and Smart Grid opportunities and career updates
• Win one of five free seats in ImagineSolar's PV150 course
• Get a $90 discount on their "PV Fundamental Package"
• Meet and talk with Austin's Solar business leaders
ImagineSolar helps your solar career grow while you work. Their blended training platform accommodates various learning styles and schedules. Night, weekend and day-time classes, in addition to hands-on, online and online LIVE offerings, give students interactive learning formats at self-paced speeds.
ImagineSolar's learning programs are accelerating the transformation of the clean, smart and renewable energy industries through knowledge. They are impacting regions across the country through solar and smart grid training courses, hands-on workshops, corporate advisory services on solar projects, and workforce training programs. Their training is online, onsite and online LIVE. For class availability and corporate training, visit www.imaginesolar.com or call (888) 514-1972.
http://vimeo.com/28994858
Featured Product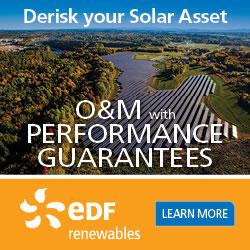 EDF Renewables offers the same innovative solutions that maximize the performance of our own 5.2 GW of installed projects. Because we're not an equipment manufacturer, our recommendations are transparent and data-driven. We cover the entire project lifecycle: from pre-commissioning support, through warranty and post warranty operation, to late stage and decommissioning.