The merger brings together two pioneers and leaders in the solar industry, each with more than 30 years of experience in their respective markets.
BOULDER, Colo., Dec. 20, 2011 (GLOBE NEWSWIRE) -- Real Goods Solar, Inc.

(Nasdaq:RSOL) and Earth Friendly Energy Group Holdings, LLC, d/b/a Alteris
Renewables, Inc., announced today that they have completed their previously
announced merger to create a multi-state solar integration powerhouse.
Pursuant to the merger agreement, Real Goods Solar, Inc. issued 8.7 million
shares of Class A common stock.
The merger brings together two pioneers and leaders in the solar industry,
each with more than 30 years of experience in their respective markets.
Combining a widely recognized and reputable consumer brand with a premier
commercial customer base, a strong array of financing solutions and in-house
engineering expertise, this merger creates a leading renewable energy
integrator. Real Goods Solar is well poised to capitalize on strong solar
installation growth with more than a dozen offices, covering both coasts
with national design-build-finance-operate capabilities.
Both companies are now operating on a single financial system and
significant progress has been made to centralize functions at our
headquarters in Louisville, Colorado. As previously announced during our
third quarter earnings call, Real Goods Solar anticipates 2011 calendar year
net revenue of approximately $110 million, with the fourth quarter showing
positive EBITDA. In addition, Real Goods Solar expects to achieve
approximately $180 million of net revenue for calendar year 2012, excluding
acquisitions, which represents an organic growth rate above 40%.
About Real Goods Solar, Inc.
Real Goods Solar, Inc. is a leading residential and commercial solar energy
EPC provider, having installed over 11,000 solar systems. Real Goods Solar
offers turnkey solar energy services and has 33 years of experience in solar
energy, beginning with the sale in 1978 of the first solar photovoltaic, or
PV, panels in the United States. With 15 offices in California, Colorado and
the Northeast, Real Goods Solar is one of the largest residential solar
installers in the country. For more information about Real Goods Solar,
please visit www.realgoodssolar.com, or call (888) 507-2561.
Featured Product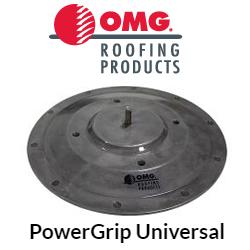 PowerGrip Plus Roof Mount System, a watertight structural attachment system used to secure ballasted solar racks and other equipment to roofs covered with thermoplastic (TPO and PVC) membranes. PowerGrip Plus is designed with wind performance in mind and offers ultimate tensile strength of 2,000 lbf. and ultimate shear strength of 1,075 lbf. Properly installed PowerGrip Plus units reduce rack movement and remaining watertight. PowerGrip Plus units are easy to install, saving both time and labor when compared to alternative options. A wide membrane skirt promotes easy welding in place, and the 15/8 diameter and 1/2 inch tall mount provides an optimal perch for securing brackets or struts. The exposed 1 inch tall and 3/8 inch diameter bolt and mounting stand are made from corrosion-resistant stainless steel and aluminum alloy for superior long-term performance.