~ Companies Join Forces to Install Solar Canopies and Rooftop Solar Arrays at Four Phoenix Area YMCA Branches ~
Scottsdale, AZ - December 20, 2011-Today, Centrosolar America, a national

solar energy manufacturing and services company, headquartered in
Scottsdale, AZ and Scout Solar, LLC, a Tempe, Arizona-based solar installer,
announce plans to activate solar PV projects at four 'Valley of the Sun
YMCA' branches. The solar arrays will be installed at YMCA branches in the
Tempe, Chris-Town, Ahwatukee, and Scottsdale/Paradise Valley communities.
With more than 1,500 Centrosolar America solar panels mounted on rooftops
and shade canopies, the combined solar power systems at the four locations
will generate more than 612,000 kilowatt-hours (kWh) of electricity annually
- an amount equal to the energy required to power 48 Arizona homes for one
year.
"The YMCA's commitment to sustainability includes finding more ways to
promote the use of alternative energy. Utilizing the available space on our
shaded canopies and rooftops for the installation of solar panels was an
easy decision for us", said George Scobas, President and CEO of the Valley
of the Sun YMCA.
The Tempe branch will offset 21% of its energy costs with a 96.6 kWh shade
canopy solar system. The Chris-Town location will offset 24% of its costs
with a 98.7 kWh rooftop system. The Ahwatukee branch will offset 19% of its
energy costs with a 98.7 kWh shade canopy. And, the Scottsdale/Paradise
Valley branch will offset 12.5% of its energy costs with a rooftop solar
system. All four project installations are planned for completion by March
2012.
The systems are being installed and financed by Scout Solar, who will also
own and operate the systems and hold the rebates that are generated through
the Arizona state solar rebate program.
"There were no out-of-pocket costs for the Valley of the Sun YMCA for this
installation, "said Scout Solar Project Administrator, Michael Norris. They
will make a set monthly lease payment on the system, an amount far less than
what their savings on electricity will be. And they are protected from
future spikes in energy prices with this arrangement."
Bringing together best-in-class project partners, Scout Solar teamed with
Centrosolar to provide the solar equipment, Solar Energy Group for system
design, Wang Electric on the electrical installation and Skyline Steel to
construct the shade canopies and racking.
All the solar projects will be equipped with Centrosolar America E-Series
modules.
"Our E-Series panels utilize polycrystalline high-efficiency silicon cells
in an optimal configuration to generate higher power output per module. This
PV module configuration also meets the highest industry standards for
resisting intense heat as is typical in the Arizona climate," said
Centrosolar Director of Sales, Chris Wood. Centrosolar America, a wholly
owned subsidiary of Centrosolar Group AG in Munich, Germany, is one of the
leading solar distributors nationally as well as in the Arizona market.
About the Valley of the Sun YMCA
The Valley of the Sun YMCA is one of the largest human services non-profit
organizations in Arizona. As the oldest non-profit in Arizona, the YMCA
serves local communities in Maricopa County, Flagstaff and Yuma offering
over 283 programs and 26 social services at 17 locations.
Members are welcome regardless of gender, religion, ethnicity, age or
ability to pay. The YMCA aims to provide each member with every opportunity
to reach farther and improve their lives and the lives of those around them.
Through Youth Development, Healthy Living and Social Responsibility, the
YMCA's goal is to inspire positive and lasting social change. Visit
www.valleyYMCA.org to learn more.
About Centrosolar America, Inc.
CENTROSOLAR America Inc. is a wholly owned subsidiary of CENTROSOLAR Group
AG, one of the leading publicly traded solar companies in Europe, with
revenues of EUR 403mn ($540mn) in 2010 and over 1000 employees in 21
locations. CENTROSOLAR has production facilities in Germany for its PV
modules and components like solar glass. Centrosolar America, Inc. has a
strong offering in the US market with complete CentroPackR PV kits - along
with branded PV modules, PV rooftop racking solutions and other balance-of
system components like switchgear and inverters. Centrosolar America has
full-scale distribution facilities in Arizona, California and New Jersey and
serves a national value-added integrator network for the residential and
commercial channel. More information at www.centrosolaramerica.com
About Scout Solar, LLC
Scout Solar, LLC is a privately owned solar project integrator based in
Tempe, Arizona, providing installation, project management and financing
services. Having assisted both commercial and non-profit organizations in
the Phoenix Metro area, the company has established a reputation for
installing systems that rate well above market standards. Working closely
with a range of equipment manufacturers and distributors, steel contractors
and engineering consultants, as well as 3rd party financial institutions as
needed, Scout Solar is able to provide quality systems under a financial
model that works well for all parties involved. For more information, e-mail
Scout Solar at info@scoutsolar.com
Featured Product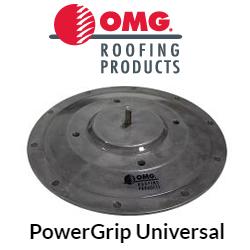 Eliminate Solar Rack Ballast and Reduce Rooftop Material Handling. PowerGrip™ Universal (PGU) is a commercial roof mount system designed to secure solar racks and other equipment to any type of commercial roofing system. PGU provides a secure connection directly to the roof deck or structural members and is designed to reduce or eliminate ballast in solar racking systems, so there's less weight on the roof and less material handling. Made of heavy-duty cast aluminum, PGU units include a base ring which is secured through the roofing cover and into the structural roof deck, and a waterproof top plate.