Eastern Iowa company on the path to achieving net zero.
Energy Consultants Group located in Anamosa has started construction on a 6.5kW Solar Photovoltaic System for their property. The purpose of this project is to become energy independent and control overhead cost in energy. As consultants and providing sales and installation of energy efficiency and renewable systems, it is important that we live the life style as well. To have a PV system onsite would be beneficial for promotion of the company as well as educational for the general public.

Performance and financial data will be made available on site and thru ECG web site for live analysis of system. This project is phase III of a long term plan to become net zero.
Phase II was completed in late 2010 when an energy efficiency retro of the property was performed. This included new LED lighting, HVAC, solar ready water heater, energy star roof, radiant barriers, more insulation, new doors, sealing and weatherproofing as well as automation controls for lighting and power systems.
Phase IV will complete the net zero project, adding another 6.5kw PV system and solar heating/cooling system that will also produce domestic hot water. The property will be net zero in grid purchased power, fossil fuel and produce zero emissions.
This PV array nameplate capacity is 6.5KwDC and will produce 7.1Kw per year of clean, renewable energy from the sun. Energy Consultants Group chose this type of setup and technology for its simplicity, quick return on investment and maintenance free operation.
This 6.5 Kw PV project consist of 28 Yingli Green Energy 235w modules. The 60 cell polycrystalline unit rated at 14.7 efficiency. The panel will be arranged with 28 modules in 2 rows in portrait mode using AET (Applied Energy Technologies) T6 Ground Mount System. The Power One, PVI-6000 Invertor will convert the DC energy to AC energy to be used at the load center and to the grid. This unit is 97% efficient. The invertor will be mounted on the wall next to the existing 200amp service panel and setup for two strings of 14 modules boasting 97% efficiency.
The ROI is under 5.5 years and once achieved, the renewable energy system will have saved about $5,000.00 in utility costs and will save around $50,000.00 over the 25 year life expectancy. This system will also add considerable value to the property and be exempt from property tax assessment for 5 years. The system will capture the federal incentives along with the Alliant Energy rebate offsetting half the cost of the project. This project was made possible by funding from the Iowa Energy Center, Collins Community Credit Union and Linda Mangler, private investor.
For more information on this project and others, feel free to visit Energy Consultants Group web site www.ecgllp.com or call 319-462-5600 to make arrangements for an onsite visit. The project is scheduled to be commissioned by Mid-February
Featured Product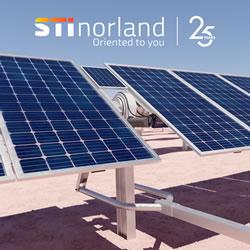 Developed in 2017, the STI-H250™ is consists of two linked torsion beams that rotate simultaneously following the sun's path. They are moved by just one motor, cutting supply and maintenance costs. STI-H250™ dual-row tracker includes backtracking mode to avoid shadowing between adjacent rows and stow function to protect the tracker in extreme wind conditions. For cleaning, vehicles can pass between trackers and each row can be placed in a different position.