* Bis Enerji's Combined-Cycle Plant In Bursa, Turkey, to Increase Capacity from 410 Megawatts to 495 Megawatts * Flexibility of GE's LM6000-PC Sprint Gas Turbine Matches Bis Enerji's Complex Requirements
HOUSTON, TEXAS and BURSA, TURKEY—January 4, 2012—GE (NYSE: GE) announced today it will supply a 48-megawatt (MW) LM6000-PC Sprint aeroderivative gas turbine and related services to independent power producer Bis Enerji Elektrik Uretim AS for the expansion of one of Turkey's largest merchant power plants. Bis Enerji's plant in Bursa, a heavily industrialized city in northwest Turkey and center of the country's automotive industry, already features power generation equipment based exclusively on GE technology.

The new LM6000-PC Sprint unit and an associated steam turbine–generator will increase the cogeneration plant's installed capacity from 410 MW to 495 MW, or enough to power approximately 200,000 more Turkish households, when it enters commercial operation in August 2012. The plant currently has six GE aeroderivative gas turbines, one GE 6B heavy-duty gas turbine and two GE steam turbines, with all gas turbines fueled by natural gas.
"Our company exists to sell power into the grid in order to meet the needs of the Turkish people, meaning that at all times we must be able to produce the power required at that moment, and we must do so in an economically advantageous manner in compliance with all environmental regulations," said Fırat Alparslan, general manager for Bis Enerji. "We see GE as our long-term solution partner, rather than as just an equipment supplier. We have been working together since 1992 and will look forward to collaborating with GE for many years to come as we continually grow our company."
Without upgrading or replacing its existing power plants, Turkey will face a serious energy shortage. Yet the country's diverse mix of economic activities and growing energy demands cannot be met with a single fuel or technology. GE's LM6000-PC Sprint aeroderivative gas turbine is an attractive solution, offering high output power, 10-minute start-up capabilities, best-in-class reliability, highly efficient operation, low emissions and fuel-flexibility.
"Bis Enerji's confidence in GE's technology is evident with the purchase of this additional gas turbine. This project demonstrates GE's ability to help customers meet critical power needs with flexible technologies," said Darryl Wilson, president and CEO—aeroderivative gas turbines for GE Power & Water. "Large output, energy efficiency, fuel flexibility, low environmental impact and low operational and maintenance costs—all over the world, this combination of requirements is becoming increasingly important to customers, and GE's aeroderivative technology is a perfect solution."
GE's aeroderivative business, headquartered in Houston, Texas, USA, brings power to businesses and communities around the world by modifying highly reliable GE aviation engines to burn natural gas and/or biofuels for efficient, reliable energy. These jet engine-based power generation units, which range from 18-100 MW, help energy companies take advantage of the growing trend to use abundant, cleaner-burning natural gas for power generation. GE's aeroderivative gas turbines have been selected for a multitude of energy applications, ranging from power generation to the exploration, production and transmission of oil and gas. The units also have marine propulsion system applications including transport, ferryboat and cruise ships.
About GE
GE (NYSE: GE) works on things that matter. The best people and the best technologies taking on the toughest challenges. Finding solutions in energy, health and home, transportation and finance. Building, powering, moving and curing the world. Not just imagining. Doing. GE works. For more information, visit the company's website at www.ge.com.
GE also serves the energy sector by providing technology and service solutions that are based on a commitment to quality and innovation. The company continues to invest in new technology solutions and grow through strategic acquisitions to strengthen its local presence and better serve customers around the world. The businesses that comprise GE Energy—GE Power & Water, GE Energy Management and GE Oil & Gas—work together with more than 100,000 global employees and 2010 revenues of $38 billion, to provide integrated product and service solutions in all areas of the energy industry including coal, oil, natural gas and nuclear energy; renewable resources such as water, wind, solar and biogas; as well as other alternative fuels and new grid modernization technologies to meet 21st century energy needs.
Featured Product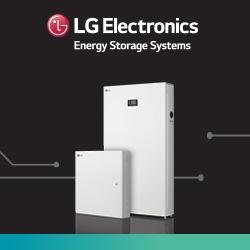 The NeON R module features "Back Contact" cell technology delivering an entirely black panel that is aesthetically pleasing and energy efficient. The cell's seamless, surface blends perfectly into nearly all rooftop designs while the module's electrodes are positioned on the rear of the cell. Using LG's N-type cell structure, the panels produce 365W of energy, up to 7.3kWp, compared to 5.8kWp of the p-type cell. The module's new design minimizes LID, thereby delivering a longer lifespan and increased energy output.