• Supervisory Board sends Dr. Philip Comberg as CEO to the Management Board • Jan Vannerum and Marc Lohoff move up to the Management Board and strengthen leadership team from own ranks • Management staffing complete – strategic realignment being implemented
Hamburg, 12 January 2012 – Conergy AG ("Conergy") expands its Management Board team

from the own ranks and strengthens especially the expertise in the important growth market
Asia. The Chairman of the Supervisory Board, Dr. Philip Comberg (44) is sent to the
Management Board as CEO for one year with immediate effect. He is responsible for
Strategy, Corporate Development, Corporate Communications, Human Resources,
Compliance and Legal. Dr. Philip Comberg, a former investment banker, independent
investor and consultant, has substantial knowledge about the industry and the Asian solar
market due his former engagement on the Board of Solarfun Power Holdings.
Board member Alexander Gorski (40) will continue to be responsible for the company's
operations as Chief Operating Officer and, additionally, for the region Europe. Under the
leadership of Mr. Gorski the operational restructuring has successfully been furthered and
the course has been set for growth and profitability. The tenure of Mr. Gorski has been
extended by two years until the end of 2014.
Marc Lohoff (42) will take on responsibility for Asia Pacific, North America and the Middle
East. The former leader of the region Asia Pacific located in Singapore has longstanding
sales and management experience in the solar and semiconductor business. Mr. Lohoff is
the first board member in the history of Conergy not to be located in Hamburg, but in
Singapore. "Already today Asia is the largest growth market for Conergy. We are profiting
from the successful work over the past years, that Mr. Lohoff significantly shaped," said Dr.
Philip Comberg.
Jan Vannerum (42), previously responsible for Accounting and Controlling at Conergy, will
move up to the Management Board as Chief Financial Officer. He succeeds Dr. Sebastian
Biedenkopf, who will leave Conergy by the end of February at his own request, as
announced two months ago. Jan Vannerum is a well-known financial expert, who previously
worked in several financial functions at Bayer AG. He has accompanied the financial
restructuring of Conergy closely and knows the company for many years now.
Dr. Philip Comberg said: "With joint forces, Conergy has successfully completed the financial
restructuring and laid the basis for the strategic realignment. We are now concentrating on
further expanding our strong market position. The Supervisory Board incumbent since
September 2011 staffed the Management Board specifically from the ranks of the own
management. This ensures continuity and stability for Conergy and its customers. With these
changes in the Management Board, Conergy aligns more with the worldwide trends of the
industry and puts the non-European markets into focus more consequently".
With the successful closing of a capital cut and subsequent capital increase in July 2011
Conergy reduced its credit liabilities from € 323 m to now € 122 m. The company concluded
a new credit agreement for the remaining debt until 2015. Following the financial
restructuring, Conergy now consequently reduces its vertical manufacturing range to become
more independent from the ongoing price decline of solar components and focuses on its
role as system supplier and its sales activities. In the execution of this strategy, the company
sold its inverter subsidiary voltwerk electronics GmbH to the Bosch group in December 2011.
Conergy further discontinued the wafer and cell production in favor of the profitable module
production at the site in Frankfurt (Oder) for the time being.
Based on the global presence with branches in 13 countries in Europe, North America, Asia
and Australia, Conergy concentrates on its original strength: The international sales of solar
systems to installers and wholesalers, the worldwide project planning of solar parks as well
as the more and more important service business.
About Conergy
Conergy delivers solar energy systems from a single source. As a system supplier, Conergy
produces all components for a solar installation and offers all services under one roof.
With its modules, inverters and mounting systems, the solar expert creates Conergy System
Technology, which is efficient and synchronized solar energy systems for private or commercial
rooftops, as well as for multi-Megawatt Parks.
Conergy System Services deliver a "Worry-Free Package" for Conergy solar installations – from
"A" for architectural planning to "Y" for yield insurance and "Z" for zero trouble. Conergy's experts
not only install on-site turn-key solar projects, but they also manage the planning and financing,
project implementation, system monitoring, operation and on-going maintenance of the project for
maximum performance. With this comprehensive technology and service package, Conergy
offers yield insurance for its installations.
Conergy System Sales brings Conergy premium products to nearly 40 countries. From "A" for
Australia to "T" for Tunisia – the solar expert supports homeowners, installers, wholesalers and
investors in their efforts to "go solar". With sales activities on five continents, Conergy has close
relationships with all its customers. In 2010, more than half of Conergy's sales were generated
outside of Germany.
Featured Product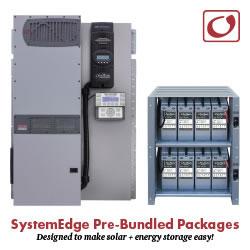 Each pre-bundled package is designed to make solar plus energy storage easy. By combining OutBack's most popular FLEXpower pre-wired systems with matched OutBack energy storage, SystemEdge takes the guesswork out of installing solar plus storage. Every SystemEdge package includes a FLEXpower factory pre-wired system, application-specific EnergyCell batteries and racking, FLEXware ICS Plus combiner and all the necessary connection hardware.