Solar Panels Don't Need A Rack - But Not All Rackless Systems Reduce Costs
CAMPBELL, Calif., Jan. 11, 2012 (GLOBE NEWSWIRE) -- Westinghouse Solar, Inc. (Nasdaq:WEST), a designer and manufacturer of solar power systems, published a White Paper today entitled: "The Revolution in Solar Power Mounting Systems." This White Paper details the financial, engineering and customer benefits of rooftop solar power systems that have integrated racking, wiring and grounding, including those from Westinghouse Solar and Zep Solar. The White Paper is available at www.westinghousesolar.com/index.php/whitepapers.

For decades, the standard for rooftop solar power system installation has consisted of a field assembly process utilizing a variety of components that must be sourced, kitted, and assembled onsite. The outcome of this approach resulted in significant assembly cost, as well as systems that were not aesthetically integrated with the design of the home.
As the cost of solar panels has declined, the overall balance of system costs (BOS, or non-panel costs) has become a larger portion of the overall system cost. For example, in 2001 these BOS costs were 40%; by 2013 they are expected to be 57% of the cost of the system. This shift in the cost model has placed increased awareness by solar power installers and system engineers on rooftop systems that reduce installation time and improve system reliability.
"The total installed cost of a rooftop system is the most important economic factor for customers. Reducing system complexity and installation time is the best way to reduce those costs," said Barry Cinnamon, CEO of Westinghouse Solar. "Solyndra had the right idea in targeting installation cost reduction; unfortunately, their solar panels were simply much too expensive. Nevertheless, there are now several integrated rooftop systems on the market that are indeed less expensive than ordinary rack-mounted solar panels."
The White Paper from Westinghouse Solar not only details the key features and benefits of integrated rooftop mounting systems, but also presents an objective overview of the practical considerations that are necessary when these systems are deployed in a code-compliant way.
About Westinghouse Solar (Nasdaq:WEST)
Westinghouse Solar is a designer and manufacturer of solar power systems. In 2007, Westinghouse Solar pioneered the concept of integrating the racking, wiring and grounding directly into the solar panel. This revolutionary solar panel, originally branded "Andalay", quickly won industry acclaim. In 2009, the company again broke new ground with the first integrated AC solar panel, reducing the number of components for a rooftop solar installation by approximately 80 percent and lowering labor costs by approximately 50 percent. This first AC panel, which won the 2009 Popular Mechanics Breakthrough Award, has become the industry's most widely installed AC solar panel. Award-winning Westinghouse Solar Power Systems provide the best combination of safety, performance and reliability, while backed by the proven quality of the Westinghouse name. For more information on Westinghouse Solar, visit www.westinghousesolar.com.
Safe Harbor
Statements made in this release that are not historical in nature, including those related to future revenue, revenue growth, gross margin, operating expense rates, achievement of cashflow and EBITDAS breakeven and profitability, product introductions and cost reductions in future periods, and anticipated outcomes in litigation, constitute forward-looking statements within the meaning of the Safe Harbor Provisions of the Private Securities Litigation Reform Act of 1995. Forward-looking statements can be identified by the use of words such as "expects," "projects," "plans," "will," "may," "anticipates," believes," "should," "intends," "estimates," and other words of similar meaning. These statements are subject to risks and uncertainties that cannot be predicted or quantified, and our actual results may differ materially from those expressed or implied by such forward-looking statements. Such risks and uncertainties include, without limitation, risks associated with the inherent uncertainty of future financial results, additional capital financing requirements, development of new products by us or our competitors, uncertainties in the timing of availability and manufacturing volumes of products from our suppliers, the effectiveness, profitability, and marketability of our new products, our ability to protect and defend proprietary rights and information, the impact of current, pending, or future legislation, regulation and incentive programs on the solar power industry, the impact of competitive products or pricing, technological changes, our ability to identify and successfully acquire and grow distribution customers, and the effect of general economic and business conditions. All forward-looking statements included in this release are made as of the date of this press release, and Westinghouse Solar assumes no obligation to update any such forward-looking statements.
Featured Product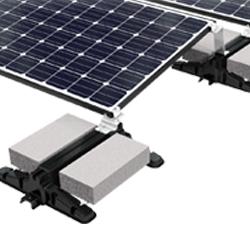 Preformed Line Products introduces the POWER MAX Ballasted Roof Mounting System. The POWER MAX solar mounting system is engineered to maximize energy output on commercial flat roofs. Developed with the professional installer in mind, this system offers adjustable inter-row spacing in the field of up to 11 inches. It features 50% fewer components and a simplified design resulting in faster assembly rates and labor savings on every project. Available in a flush mount, 5˚ or 10˚ tilt or higher density dual tilt design, the POWER MAX base arrives stacked on pallets providing easier transport to the roof. Engineered as a fully ballasted, non-penetrating system, it accepts standard concrete blocks and is qualified by wind tunnel testing.