Efficiency and economic viability are increasingly becoming the center of attention
Horb am Neckar, Germany, January 2011. In 2011, DEGERenergie increased its turnover by about 20 percent compared to 2010. For 2012, the company expects continued sharp rise in demand for its MLD tracking technology. With more than 47,000 systems installed worldwide in 46 countries, DEGERenergie is the global market leader for solar tracking systems.

In the past year, a particularly strong rise in demand for MLD tracking was registered in Canada and Greece. Also in Germany, there has been a considerably growing interest in DEGERenergie's products. Michael Heck, Vice President Sales & Marketing at DEGERenergie: "The energy turnaround is increasingly influencing consumer behavior. The willingness to invest in green energy is growing, in individuals and companies alike."
While, particularly in Germany, falling feed-in tariffs are often considered as slowing down the solar sector, DEGERenergie benefits from a completely opposite trend. Michael Heck explains: "Falling feed-in tariffs are grist to our mill as the efficiency and economic viability of solar installations are receiving more and more attention this way. In this respect, MLD tracking is simply unbeatable, with averagely 45 percent higher yield than fixed modules."
Against this backdrop, DEGERenergie will further strengthen its capacities in the German-speaking countries in 2012. For example, new employees are to be hired especially to support customers and projects in this growing market.
Decentralized energy generation is a worldwide trend
Worldwide, the trend goes towards decentralized energy generation and self-supply. "On all markets we are involved in, we see more and more medium-sized companies and individuals taking the chance to step by step become independent of the public grid and continuously rising energy prices by relying on photovoltaics. While previously, the market was almost exclusively propelled by solar park operators and large investors, particularly the segment of smaller systems and self-supply units has undergone a positive development in the past year. We are convinced that this field will soon become a mass market."
According to Michael Heck, the balanced load profile of MLD tracking systems is a key factor here: "Of course, anyone generating solar energy for self-supply does not only want to profit from it around noontime but also during the typical peaks in the morning and in the evening. Our systems perfectly cater to this need." He also considers this to be a criterion why a lot of small-scale power generators feed energy into the public grid – the more balanced the load profile, the easier the handling in the grid.
Focus on Australia and North America
After DEGERenergie above all invested in setting up production facilities in the USA and Australia in the past year, these regions also remain in the focus in 2012. The company will open a distribution office in spring, most likely near Brisbane, and the staff of the subsidiary in Phoenix, Arizona, active on the US market for quite some time now, is to be built up. Michael Heck: "The American market is now opening up. Even as early as in the first days of the new year, our local team was able to achieve a notable success and we are expecting the United States market to keep on growing steadily."
The same applies for Australia and especially for Germany. DEGERenergie is expecting the already mature market in Ontario, Canada, to stabilize again in 2012, after political irritations had shaken it. In addition, the worldwide energy turnaround and financial crisis create new promising chances in regions which have so far only played a minor role on the solar market – among others in South Africa. "We are currently checking the framework and market opportunities in many different regions of the world," says Michael Heck.
DEGERenergie is the global market leader for solar tracking systems. Worldwide, more than 47,000 DEGERenergie systems are installed in 46 countries. The company is represented in Spain, Greece and North America with its own subsidiaries and cooperates with local distribution and service partners in many countries worldwide. The patented DEGERenergie Maximum Light Detection (MLD) technology makes it possible to improve the energy yield of solar power plants by an average of 45 percent compared to fixed systems.
For more information: www.DEGERenergie.com.
Featured Product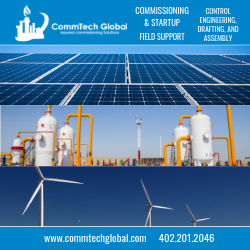 CommTech Global Solutions, LLC, provides professional and reliable commissioning services to customers in all realms of the energy industry. We blend our skills in engineering and technology with innovative business models, offering a complete range of services to assist you for a successful and in compliance operational startup. Consolidation of all our service domains gives our clients a comprehensive set of expertise and far-reaching experience on each project.