2012 Solar Power Generation USA Awards Recognize Projects and Breakthroughs Leading the Next Stage of American Solar
(February 1, 2012) Las Vegas – Solar Power Generation USA (www.solarpowergenerationusa.com), the industry's leading utility-scale solar power conference, today announced the winners of its Solar Power Generation Awards. The 2012 winners in the four categories are First Solar, Inc. (NASDAQ: FSLR) for PV Project of the Year, the Ivanpah Solar Electric Generating System for CSP Project of the Year, Kaua'i Island Utility Cooperative for Solar Utility of the Year, and Soitec for CPV Breakthrough Achievement of the Year. These awards, chosen by the industry, recognize achievem ents in the field of utility scale solar power generation in the US.

"These four award winners have helped advance technology in the industry, shown us new ways to secure financing, and are setting records and inspiring the industry. We can all learn from their leadership and excellence," said Laura Dinnewell, Director of Solar Power Generation USA.
The awards came in the middle of the fourth annual Solar Power Generation (SPG) USA conference. Named the 2011 "Best American Conference" by the Conference Awards, SPG is featuring more than 60 subject matter experts speaking across four dedicated channels: Concentrated Solar Power (CSP), Photovoltaic (PV), Concentrated Photovoltaic (CPV), and Operation and Maintenance (O&M). Hundreds of senior-level leaders in project development and finance, solar technologies, policy, utilities and grid connection will decide the future of solar in the US during the SPG event, which runs through February 2 in Las Vegas.
More about each award recipient is below.
First Solar, Inc.'s Agua Caliente – PV Project of the Year
Located 65 miles east of the city of Yuma, Arizona, First Solar, Inc's Agua Caliente project is expected to be the largest operational photovoltaic (PV) plant in the world upon completion in 2014. When fully operational, the project will generate enough clean solar energy to serve the needs of about 100,000 average American homes a year, displacing approximately 220,000 metric tons of carbon dioxide (CO2) annually – the equivalent of taking nearly 40,000 cars off the road. Agua Caliente is designed to have low environmental and visual impacts. Mounted to metal racks, the solar panels will stand no higher than six feet above ground and will be able to withstand the high winds of the region. Construction planning for the project included the implementation of appropriate dust control measures, as well as truck routes that minimize traffic. Agua Caliente will generate state and local tax revenues, and create up to 400 constructi on jobs through its completion, in addition to approximately 16 ongoing jobs in monitoring and operations.
Ivanpah Solar Electric Generating System – CSP Project of the Year
The Ivanpah Solar Electric Generating System (Ivanpah) is currently the world's largest CSP plant under construction. When completed, it will double the amount of solar thermal electricity produced in the US. The project has secured not only a US Department of Energy loan guarantee but also $168 million from Google and $300 million for NRG Solar LLC as equity investors. Ivanpah offers a great example of how a large-scale project, if well structured, can still attract the necessary investment to succeed, bucking the trend of financing difficulties. A project of this scale will also help drive down the cost of CSP, and through power purchase agreements with Southern California Edison and Pacific Gas and Electric Company will help bring California closer to its goal of producin g 33 percent of its electricity from renewable resources by 2020.
Kaua'i Island Utility Cooperative – Utility of the Year
The majority of Kaua'i Island Utility Cooperative's (KIUC) power generation today still comes from fossil fuels, but the utility is making big steps to expand its renewable capabilities. Using funds previously allocated for a combustion turbine generator, KIUC announced plans at the end of 2011 to develop a 12MW PV farm with REC Solar, Inc. With the new facility, the utility will have approximately 20MW of PV available to its system. KIUC will also be integrating a battery energy storage system to handle intermittency issues. When the project is successfully developed, KIUC anticipates having more PV concentration than any utility in the US.
Soitec – CPV Breakthrough Achievement of the Year
Soitec, named "one of the leading CPV players" in 2011 by GreentechMedia, recently announced new, utility-scale power purchase agreements totaling 305 MW for projects with San Diego Gas & Electric (SDG&E) in 2011. Soitec's Concentrix™ concentrating photovoltaic (CPV) technology was selected in early 2011 by Tenaska Solar Ventures to produce 150 MW of clean energy as part of a new solar power plant, the Imperial Solar Energy Center (ISEC) West, to be constructed on a 1057-acre site in Southern California's Imperial County. This project is expected to be completed in 2015 and generate more than 1,000 jobs in Imperial Valley. SDG&E subsequently signed an additional 155 MW of solar power projects with Soitec located within San Diego County. These contracts received CPUC approval by the end of 2011. To support these and other projects, in March of last year, Soitec announced plans to locate and has begu n construction on its first North American CPV factory in San Diego, representing an investment in excess of $160 million. The facility is planned to be operational by the end of 2012. With a capacity of 200 MW per year, the San Diego factory will provide more than 450 direct jobs for the region. According to Sarah Kurtz, a principal scientist with the National Renewable Energy Laboratory in Golden, Colorado, it is the largest plant for concentrated photovoltaics (CPV) announced anywhere to date.
The full SPG agenda and attendance logistics can be found at www.solarpowergenerationusa.com, by following SPG on Twitter at @SolarPowerGenUS and #SPG12, and by joining the LinkedIn Solar Power Generation USA 2012 group.
About Green Power Conferences
Green Power Conferences is the market leader in renewable energy conferences. Since 2003, more than 15,000 delegates have attended more than 300 conferences, exhibitions, workshops and training courses providing strategic business intelligence to the renewable energy and sustainability industries. Green Power's expertise lies in producing high quality, interactive events that provide ample networking opportunities for delegates, sponsors and partners. More information and a full list of current conferences are available at: www.greenpowerconferences.com.
Featured Product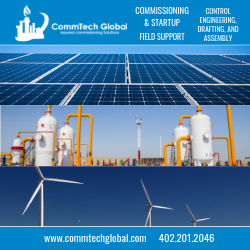 CommTech Global Solutions, LLC, provides professional and reliable commissioning services to customers in all realms of the energy industry. We blend our skills in engineering and technology with innovative business models, offering a complete range of services to assist you for a successful and in compliance operational startup. Consolidation of all our service domains gives our clients a comprehensive set of expertise and far-reaching experience on each project.