Climate Change Business Journal Recognizes Firms for Growth and Innovation
SAN FRANCISCO, February 6, 2012—Climate Change Business Journal® (CCBJ), a business research publication which provides high value strategic business intelligence to the climate change industry, has honored 31 companies for their contributions to mitigating climate change in 2011.

3Degrees is pleased to announce that it was chosen to receive the CCBJ award for Project Merit: Renewable Energy Development.
"CCBJ recognized a number of innovative projects and companies that broke new ground in 2011 in renewable energy marketing, wind, energy storage, carbon capture & storage, and adaptation," said Grant Ferrier, president of Environmental Business International Inc. (EBI, San Diego), publisher of Climate Change Business Journal.
3Degrees was recognized for providing developers of wind, solar, and other renewable energy projects with additional revenue through the purchase and marketing of renewable energy certificates (RECs).
"We are proud that, by helping build a robust, demand-driven market for renewable energy, we provide organizations and households with the opportunity to take responsibility for the environmental impact of their energy use and demonstrate their support for green power projects," said Dan Kalafatas, CEO of 3Degrees. "As this award recognizes, our work building and meeting the nation's demand for green power accelerates the low-carbon, renewable energy economy."
Green Power Market Leadership
In 2011 3Degrees also secured the REC Market "Triple Crown," after having received the year's three most important honors awarded to renewable energy sales, trading, and marketing firms.
On December 14, 2011, Environmental Finance named 3Degrees Best Trading Firm, Renewable Energy Certificates, North America in its 12th annual market survey. In early December, Energy Risk announced that it had ranked 3Degrees the top U.S. Renewable Energy Certificates Dealer in its 2011 environmental markets survey. In addition, at the Renewable Energy Markets Conference in November, the U.S. Department of Energy awarded 3Degrees its Green Power Leadership Award for Non-Utility Green Power Supplier of the Year.
RECs Support Green Power Projects
Renewable power projects in the United States don't just produce electricity—they also produce Renewable Energy Certificates (RECs). Each of these RECs represents one megawatt-hour of electricity generated from wind, solar, biomass, geothermal, low-impact hydro, or other renewable energy technologies.
By selling the RECs generated by their projects, renewable energy project owners are able to secure additional income. This additional income supplements the revenue they receive from selling their projects' electricity, helping make these renewable energy projects more competitive with traditional energy projects that use fossil fuels.
Organizations and households that choose to match their electricity use with RECs ensure that for every megawatt hour of electricity they use, another megawatt hour of renewable energy is generated and delivered to the grid. By matching their electricity use with RECs, these organizations and households help channel funds to renewable energy projects, encouraging the construction of similar projects.
The 2011 CCBJ awards will be presented at a special ceremony at the Environmental Industry Summit X in Coronado, Calif. on March 14-16, 2012. The Environmental Industry Summit is an annual three-day event hosted by EBI Inc.
About 3Degrees
3Degrees' mission is to mitigate the effects of climate change by accelerating the low-carbon, renewable energy economy. 3Degrees realizes this mission by helping its utility, business, LEED green building, and other partners utilize environmental commodities to build stakeholder value. Through these partnerships, 3Degrees increases demand for Renewable Energy Certificates (RECs) and carbon offsets, channels capital to renewable energy and carbon reduction projects, and improves the efficiency of environmental markets.
Winner of the U.S. Department of Energy's Green Power Leadership Award for five straight years, 3Degrees is headquartered in San Francisco, California, with regional operating centers located in Portland, Oregon; Seattle, Washington; Salt Lake City, Utah; St. Louis, Missouri; Richmond, Virginia; and New England. To learn more, visit www.3degreesinc.com.
About the CCBJ Business Achievement Awards:
In October-December 2011, Climate Change Business Journal solicited nominations for the CCBJ Business Achievement Awards. Nominations were accepted in 200-word essays in either specific or unspecified categories. Final awards were determined by a committee of CCBJ staff and CCBJ editorial advisory board members. (Disclaimer: company audits were not conducted to verify information or claims submitted with nominations.)
About CCBJ:
Climate Change Business Journal® (CCBJ) is a business research publication launched in 2007 which provides high-value, strategic business intelligence on the Climate Change Industry.
About EBI:
Founded in 1988, Environmental Business International Inc. (EBI, San Diego, Calif.) is a research, publishing and consulting company that specializes in defining emerging markets and generating strategic market intelligence for companies, investors and policymakers. EBI publishes Climate Change Business Journal®, which covers nine segments of the Climate Change Industry, and Environmental Business Journal®, the leading provider of strategic information for the environmental industry. EBI also performs contract research for the government and private sector and founded the Environmental Industry Summit, an annual three-day event for executives in the environmental industry.
* Segments covered by CCBJ:
Lower carbon and renewable power
Carbon capture and story
Energy storage
Energy efficiency & demand response
Green buildings
Transportation
Carbon markets
Climate change adaptation
Consulting & Engineering & Research
For a full definition and list of subsegments visit:
http://www.climatechangebusiness.com/industry_segments
Media Contact:
Jason Brown
3Degrees
jbrown@3degreesinc.com
O: 415-674-1420
Featured Product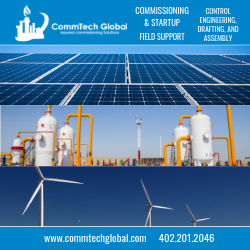 CommTech Global Solutions, LLC, provides professional and reliable commissioning services to customers in all realms of the energy industry. We blend our skills in engineering and technology with innovative business models, offering a complete range of services to assist you for a successful and in compliance operational startup. Consolidation of all our service domains gives our clients a comprehensive set of expertise and far-reaching experience on each project.