Godawari Green Energy Limited and Reliance Power will share the critical lessons learned in Indian CSP project development
Godawari Green Energy Limited (GGEL) and Reliance Power are two companies leading the way in commercializing CSP in India, with 150MW in progress. Both will be providing exclusive updates on their Phase I projects under the National Solar Mission at the 3rd CSP Today India Summit 2012 (14-15 March, New Delhi).

From an industry perspective the overall progress made by project developers in Phase I has been heavily scrutinized in recent months, and with the project completion deadline now almost a year away, the impact that current projects have had on future industry growth will form a critical part of the debate in New Delhi.
Godawari Green Energy Limited (GGEL) is a flagship company of the HIRA group in the renewable energy sector. They successfully bid as one of the seven developers under Phase I of the National Solar Mission for a 50MW solar thermal plant with an aim to be the first to successfully execute and commission the project. The project is being implemented at the Naukh village located in the Jaisalmer district in Rajasthan and has a signed Power Purchase Agreement with NTPC Vidyut Vyapar Nigam (NVVN).
Like GGEL, Reliance Power was also successful under Phase I of the NSM and is currently executing a 100MW project in Rajasthan. Reliance Power Limited is a part of the Reliance Group, one of India's largest business houses. The group operates across multiple sectors, including telecommunications, financial services, media and entertainment, infrastructure and energy – with a total renewable energy portfolio of 1,000MW.
Joining them at the CSP Today India Summit are leading international CSP companies including Torresol Energy, Abengoa Solar, ACS Cobra, Bechtel and Siemens, who will provide critical engineering and construction know-how from large-scale projects in Europe and the US. In addition, CSP Today announced this week that the Ministry of New and Renewable Energy, IREDA, NVVN, World Bank and the IFC will also be in attendance to outline the future of government regulations and subsidies in India, as well as the financing of projects in Phase II.
More details about this event are available at www.csptoday.com/india or contact Jack Ahearne by email: jack@csptoday.com
Featured Product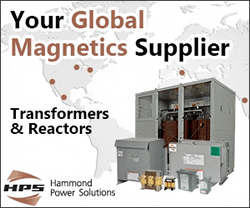 HPS is the largest manufacturer of dry-type transformers in North America. We engineer and manufacture a wide range of standard and custom transformers that are exported globally in electrical equipment and systems. We support solid industries such as oil and gas, mining, steel, waste and water treatment, and wind power generation. HPS leads the industry in these markets through its technical design strength, breadth of product, and manufacturing capabilities, making HPS a stronger company both fundamentally and financially.