200 MW Bishop Hill Wind Farm Under Construction in Illinois
CHICAGO, Illinois – (February 6, 2012) – Invenergy Wind LLC ("Invenergy") and a subsidiary of U.S. Bancorp (NYSE: USB) announced today that renewable energy tax equity financing is in place to support Invenergy's Bishop Hill Wind Project ("Bishop Hill") in Illinois. The 200 megawatt project currently is under construction in Henry County, Illinois.

"Invenergy is pleased to welcome U.S. Bancorp as an investor in our Bishop Hill wind project," said Jim Murphy, Chief Financial Officer and Chief Operating Officer of Invenergy. "This represents U.S. Bancorp's first investment in an Invenergy wind project, and we look forward to a mutually beneficial, long-term relationship."
Scheduled for completion in mid-2012, Bishop Hill will consist of 133 turbines and will sell all of its power and renewable energy attributes to the Tennessee Valley Authority under a long-term contract. The project will produce enough clean, renewable energy to power approximately 120,000 homes.
"We value new partners like Invenergy," said Darren Van't Hof, Director of Renewable Energy Investments for U.S. Bancorp. "U.S. Bancorp is proud to support investments that produce jobs, reduce emissions, and foster energy independence."
Located on approximately 33,000 acres, Bishop Hill is employing more than 200 skilled construction workers. Upon completion, approximately 15 full-time employees will operate and maintain the project. The wind facilities will further benefit the host community economically by providing tax payments to the county and local municipalities, and through land lease payments to nearby landowners.
About Invenergy
Invenergy and its affiliated companies develop, own and operate large-scale renewable and other clean energy generation facilities in North America and Europe. Invenergy is committed to clean power alternatives and continued innovation in electricity generation. Invenergy's home office is located in Chicago and it has regional development offices throughout the United States and in Canada and Europe.
Invenergy and its affiliated companies currently have over 6,600 MW of wind, solar, and thermal projects under contract, in construction, or in operation. For more information, please visit www.invenergyllc.com.
About U.S. Bancorp
U.S. Bancorp, with $330 billion in assets as of Sept. 30, 2011, is the parent company of U.S. Bank, the fifth-largest commercial bank in the United States. The company operates 3,089 banking offices in 25 states and 5,092 ATMs and provides a comprehensive line of banking, brokerage, insurance, investment, mortgage, trust and payment services products to consumers, businesses and institutions.
U.S. Bancorp is a recognized leader in financing a variety of renewable energy projects, building on its experience in other tax credit equity investments, including new markets, historic, and affordable housing tax credit investments. U.S Bancorp has committed more than $680 million of renewable energy tax equity to finance over $1.5 billion of renewable energy projects in the United States primarily in the solar market, and in select opportunities in the wind energy market. Visit U.S. Bancorp on the web at www.usbank.com.
Featured Product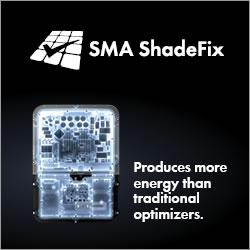 A recent university study showed SMA ShadeFix optimization produces more energy than traditional optimizers. It also utilizes far fewer components, reducing the need for costly service visits. Systems with ShadeFix optimization and SunSpec certified shutdown devices are the ideal solution for residential and commercial PV systems. Visit SMA's website to learn more and download the whitepaper.