Kevin Suhr brings together technical experience and personalized customer service to support global growth
BOULDER, Colo. - (Feb. 7, 2012) - AlsoEnergy, a leading supplier of energy monitoring systems, announced today the hire of Kevin Suhr to lead field service as a result of rapid expansion to multiple countries.

Suhr's experience in energy, technology and service support will enable him to combine technical expertise with an adept talent for understanding each individual customer.
"In PV monitoring, no installation or financier's technical needs and goals are exactly the same. It is important understand client needs, be able to communicate them and implement the changes in a monitoring solution," said Suhr.
Most recently, Suhr served the role of lead troubleshooting, data monitoring and service technician at Bella Energy in Louisville, Colo. where he installed and maintained data monitoring systems in a wide range of applications.
"AlsoEnergy is seeing the rapid growth of its customer base and, as the company expands its international presence, we remain committed to our standard of one-on-one customer support and highly customized monitoring solutions," said AlsoEnergy CEO Robert Schaefer. "Kevin's proven record of providing excellent service and results aligns well with AlsoEnergy's goal of exceeding customer expectations as the company continues to grow."
AlsoEnergy currently monitors more than 600 solar power sites in 14 countries around the world including the United States, Canada, Korea, Italy, Germany, Mexico, Slovakia, France, UAE, Australia, Spain and Greece.
About AlsoEnergy
Based in Boulder, AlsoEnergy provides the most comprehensive energy monitoring and financial management software solutions for renewable energy developers, manufacturers and investors who are establishing today's clean-tech industry standards and best practices. From residential and government to commercial and utility grade applications, AlsoEnergy's technology platform increases business results with online access to critical cost and production data. With the industry's only complete client-customized web application, AlsoEnergy's unique architecture and price point reduce risk, improve energy supply chain transparency and bring strategic vision to energy portf
Featured Product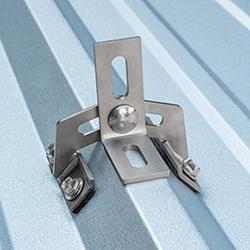 QuickBOLT Low Profile QuickBOLT with Microflashing™ is the industry's affordable, UL Certified Asphalt Shingle mounting system. The Microflashing™ is compressed by the collar on the bolt to create a water-tight seal. With an installation time of less than one minute, the Low Profile QuickBOLT allows installers to complete more jobs.