Antenna Forms Global Strategic Alliance with Greenpoint PR
SAN FRANCISCO and LONDON, Feb. 9, 2012 -- In a move that expands its presence and capabilities to the European market, Antenna Group, Inc., North America's largest public relations firm dedicated to clean and renewable energy technologies, announced it has entered into a strategic global partnership with Greenpoint PR.

The two agencies are recognized specialists in cleantech. Like Antenna, Greenpoint PR has an established reputation for supporting early-stage-to-mature cleantech companies. The agency's client base spans from renewable energy, energy efficiency, green IT, transportation and waste to ecology, sustainable communities, packaging and green building. For more than a decade, Antenna has been dedicated to clean and renewable energy technologies.
"Antenna Group is widely recognized within media, financial and utility circles as the 'go-to' firm for renewable energy technology public relations," said Michael Saxton, CEO of Greenpoint PR. "This partnership not only provides our clients with greater access to media, government and investors in North America, but it also enhances our capabilities through the integration of Antenna people within our consultancy team."
The partnership provides Antenna | Greenpoint clients with a global network of more than 50 cleantech communicators with offices in Washington, D.C., New York City, New Jersey, San Francisco and London, as well as presences in Paris, Madrid, Warsaw and Cape Town.
"Over the last decade, we've seen even our early-stage clients come out of the gate with global sales strategies," said Keith Zakheim, CEO of Antenna Group. "Since then, this trend -- the globalization of energy -- has continued, with the sharing and customization of regional incentive structures, feedstock and materials bases, manufacturing capacities and technology innovation. At Antenna, we understand that to continue on our path as one of the fastest-growing and largest agencies dedicated to cleantech, we must extend our capacity to support our clients' growth initiatives."
About Antenna Group
Antenna Group is the largest clean technology public relations firm in North America and its parent company, Beckerman, ranks among the top 10 fastest-growing public relations agencies in the industry. Antenna Group is a dedicated advocate for innovative technology businesses whose products or services contribute to a cleaner, more energy-efficient world. Antenna's cleantech client-partners are multinational companies for which Antenna serves as the agency of record, leading strategy and managing outreach via partners worldwide. Antenna's experience includes renewable energy of all kinds; energy efficiency; energy storage; finance, from utility-scale to residential; waste management; water; and food purification. Cleantech embraces modern energy, green tech and technologies for sustainable living. To learn more, please visit http://www.antennagroup.com
About Greenpoint PR
Greenpoint provides PR and communications advice and solutions for organisations and brands at the forefront of the cleantech and low carbon economies. The firm represents clients which in a variety of ways are tackling climate change, waste and resource depletion through innovation and capital commitment. Greenpoint was founded by Michael Saxton, an award-winning communicator with a life-long interest and enthusiasm for design-led environmental innovation. To learn more, please visit http://www.greenpointpr.com
Featured Product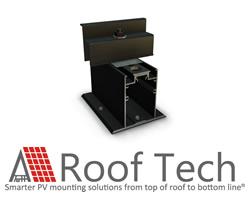 The most compact versatile rail-less PV mounting system under the sun. Instead of placing solar panels on top of long rails, simply attach E Mount AIR to rafters or the roof decking. Once panels are fastened to the roof, the system array is electrically bonded. The result is a visually seamless PV installation that stands the test of time. - Truly "One With The Roof". - PE stamped cert. letters available, UL 2703 Classified, ASTM 2140 fully waterproof. The one and only with integrated flexible flashing certified by the ICC! All the best quality. Only from Roof Tech