Three Student Teams from North America Win $35,000 in Prize Money for Top Sustainable Home Designs
International Builders' Show 2012

MIDLAND, Mich.--As part of its commitment to support education and innovations that will help solve the world's challenges, today the Dow Chemical Company (NYSE:DOW), announced the three winning teams of the international Dow Solar Design to Zero Competition during the 2012 National Association of Home Builders (NAHB) International Builders' Show (IBS) in Orlando, Fla. Three student teams from the United States and Canada received top prizes for developing exceptional design innovations to achieve affordable, high performing and energy-efficient housing solutions on a global scale. Two teams from the U.S. took first and second place with a team from Canada placing third. Winners of the competition were determined by a peer-review process that allowed all contestants to vote.
The Dow Solar Design to Zero Competition was designed as an innovative, interactive and collaborative team competition among undergrad and graduate students from around the world. Dow launched the design competition in August 2011, and received 131 entries from 19 countries. The final 32 teams were announced in December 2011 and included designs from the U.S., Canada, China, Spain, Korea, France and Australia.
"The students' designs are perfect examples of the innovative thinking that is needed to create sustainable and energy efficient housing both now and for the future," said Pat Nugent, Director of New Business Development, Dow Solar. "The Dow Solar Design to Zero Competition challenged students to think outside the box to develop net-zero solutions that will ultimately shape the future of sustainable residential building and design; we wanted to share these innovative solutions with the building industries leaders at IBS."
The first place award, along with a $20,000 prize, was given to the Live/Work team from South Carolina, U.S. The designers Eric Laine and Suzanne Steelman, graduate students from Clemson University School of Architecture designed a home that expands beyond traditional building sustainability and incorporates both commercial and residential functionalities. The structure embraces its urban setting both architecturally and economically, adapting its energy systems to the regional environment and integrating those systems seamlessly into the aesthetic design of the building.
Daniel Kim and Caitlin Ranson, also from Clemson University School of Architecture, received second place along with a $10,000 prize for their Project Zero design. The structure's concrete masonry units create an elegant energy efficient house that pays tribute to great 20th century modernism. The home also incorporates multiple zones that decrease the cost and the energy footprint while always keeping an eye on design.
The Silo House design from Canada was awarded third place and a $5,000 prize for its out-side-of-the-box thinking. Team members Leon Lai and Eric Tan created a dwelling that transforms an abandoned oil silo into a residential house. The team used the spherical shape of the oil silo to their advantage; the surface area allows for the optimal collection of solar energy year round.
In addition to the final three winners, Dow Solar announced four honorable mention teams. Tongji Team 2 from China created an energy efficient dwelling designed with the Chinese farmer in mind. Team Partial Submersion from the U.S. sunk the building in order to protect it from the heat and cold of the climate. Our third honorable mention team, VegaSol, from the U.S., did a great job of integrating passive and active solar systems into its energy strategy, but it's the structure's ability to respond to the Las Vegas environment that set this team apart. And from Spain, it was Liquid Arquitectura's ability to create a great example of urban architecture that secured them an honorable mention.
Leading up to IBS, Dow Solar announced also four ancillary Design to Zero award winners. Team Below Zero, U.S., captured the Built-in Photovoltaic Design Award for taking its design cues from the sun and creating a house with optimal solar angles. The Design Integration Award went to team BreathZERO, U.S., for its integration of space, materials, and technology to achieve a serene and environmentally sound solution. Energy efficiency is one of the quickest and most affordable ways to improve our world's energy challenges, and with houses like our Energy Efficiency Winner, 33° South, Australia, we are on the right track to help reduce our energy consumption and carbon footprint. Finally, from China, it was MIF Studio's seamless integration of the ornamental with the practical that secured their team the Innovation Award.
"Working with all the enthusiastic and extremely talented international students throughout this competition has not only been incredibly rewarding but has been an amazing learning experience for me," said Peter Anders of Kayvala Consulting and Dow Solar Design to Zero student advisor. "Each submission provided innovative and revolutionary designs that will help transform the future of sustainable building; these are the architects and engineers of tomorrow and it has been a great experience working with Dow to see these ideas for our future unfold."
For more information on the Dow Design to Zero competition, or to view all the student design submissions, please visit www.designtozero.com.
About Dow
Dow (NYSE: DOW) combines the power of science and technology to passionately innovate what is essential to human progress. The Company connects chemistry and innovation with the principles of sustainability to help address many of the world's most challenging problems such as the need for clean water, renewable energy generation and conservation, and increasing agricultural productivity. Dow's diversified industry-leading portfolio of specialty chemical, advanced materials, agrosciences and plastics businesses delivers a broad range of technology-based products and solutions to customers in approximately 160 countries and in high growth sectors such as electronics, water, energy, coatings and agriculture. In 2011, Dow had annual sales of $60 billion and employed approximately 52,000 people worldwide. The Company's more than 5,000 products are manufactured at 197 sites in 36 countries across the globe. References to "Dow" or the "Company" mean The Dow Chemical Company and its consolidated subsidiaries unless otherwise expressly noted. More information about Dow can be found at www.dow.com.
About Dow™ POWERHOUSE™
The DOW POWERHOUSE™ Solar Shingles is a first-of-its kind product, designed to combine the benefits of solar technology with the durability and performance of traditional roofing materials. POWERHOUSE™ has been developed to introduce solar technology to a new generation of homeowners by providing an unprecedented integrated roof appearance and simplified installation. It combines a roofing shingle with a solar cell, enabling the DOW POWERHOUSE™ Solar Shingle to be installed by a roofer along with standard asphalt roofing materials. This makes the DOW POWERHOUSE™ Solar Shingle an easy choice for homeowners looking for a residential solar solution that is easy to install and aesthetically pleasing. Building Integrated Photovoltaic (BIPV) products from Dow Solar are one of the many innovations from Dow establishing the Company on the forefront of alternative energy solutions and expanding Dow's commitment to using chemistry to solve the world's energy challenges. More information about Dow Solar can be found at www.dowsolar.com. Homeowners and building professionals can also follow Dow Solar on Facebook (www.facebook.com/DowSolar) and Twitter (@DowSolar) or via YouTube.
Featured Product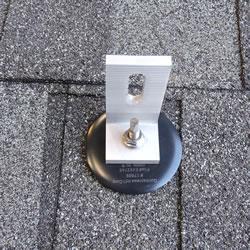 SolarRoofHook's Low Profile QuickBOLT with Microflashing™ is the industry's affordable, UL Certified Asphalt Shingle mounting system. The Microflashing™ is compressed by the collar on the bolt to create a water-tight seal. With an installation time of less than one minute, the Low Profile QuickBOLT allows installers to complete more jobs.