Solar Industry Gathers March 19-21, 2012 in San Jose to Discuss Technology, Market Development and Policy at More Than 30 Program Sessions
WASHINGTON, Feb. 13, 2012 – PV America 2012 West features a robust conference program designed to provide attendees from all sectors involved with solar with tools and knowledge for the fast-changing photovoltaics industry. With more than 30 concurrent educational sessions covering finance, markets, policy, technology, utilities, and cross-cutting issues; four instructional workshops, and four interactive Solar Idea Swaps, the program delivers a wide range of topics that address the key developments and policies that are driving industry growth.

Presented by the Solar Energy Industries Association (SEIA) and the Solar Electric Power Association (SEPA), PV America West is a regional Solar Power International event showcasing exhibits from more than 150 companies, and is expected to draw more than 4,000 industry attendees. The show takes place March 19-21, 2012 at the San Jose Convention Center in San Jose, Calif.
"This year's conference program features highly respected speakers who can provide useful insights on the important issues and opportunities surrounding the PV market," said Julia Hamm, president and CEO of SEPA. "Attendees will garner knowledge from industry experts, including the utilities who are implementing powerful solar business models, and policy makers whose policies are driving new PV opportunities not only in the Western U.S., but throughout the country."
"With the solar industry in the spotlight, it is critical for us to provide our attendees with the most up-to-date information to keep them at the top of their game. The educational program at PV America West covers virtually every subject that is relevant to the growth and professionalism of the industry," said Rhone Resch, president and CEO of SEIA.
Concurrent Education Sessions: Monday, March 19 to Wednesday, March 21
The PV America West conference program offers rich and diverse topics in six tracks:
Finance – Five sessions provide an in-depth look at the financing strategies for utility-scale, commercial and residential systems.
Policy – Six sessions discuss the latest policy and regulatory developments across the country as well as the expanding policy that is driving opportunity in the Western U.S.
Markets – Four sessions focus on market prospects for North America, developing brownfields, residential PV growth and long-term growth of the industry through consumer relations.
Technology – Operational Issues and Safety Standards – Four sessions discuss safety energy storage and the balance of systems to improve performance and reduce costs.
Utilities – Four sessions focus on utility business practices, how to work with them, and what drives their development of solar projects.
Cross-Cutting – Five sessions provide insight into the changing codes and standards, lowering of costs while increasing value of PV installations, sustainable practices, and developing solar projects in the military, schools as well as non-profits.
Session Highlights:
Markets Track
Residential PV: How to Go Big with Small Systems
Wednesday, March 21, 10:30 a.m. – 12:00 p.m.
Small systems sometimes come with big challenges but the residential market has huge potential. What special considerations are needed in the residential sales process? How do different PV ownership models appeal to different customer segments? This session will explore the business process and prospects of residential PV including a look at how to make it even more attractive.
Moderator: Josh Goldberg, Vice President Policy and Business Development, Astrum Solar
North American PV Market Overview
Tuesday, March 20,10:30 a.m. – 12:00 p.m.
Where is the North American PV Market growing? How does it compare to European demand markets? What are the challenges and opportunities over the next five years? How did policy changes impact market dynamics at the end of 2011 and what impact will they have at the beginning of 2012? How will the global market shape the next two years in the North American PV industry?
Moderator: Tom Kimbis, Vice President, Strategy & External Affairs, Solar Energy Industries Association
Finance Track
Financing for Distributed Generation Projects
Monday, March 19, 1:00 p.m. – 2:30 p.m.
Finding financing for distributed solar transactions can be difficult given the current capital markets and the relatively small size of distributed generation transactions. In this panel, solar developers will gain a better understanding of the financing process, and thus be in a better position to get their projects financed.
Moderator: Robert Sternthal, President and Managing Director, Reznick Capital Markets, LLC
Policy Track
Net Metering: Who Is Subsidizing Whom?
Monday, March 19, 3:00 p.m. – 4:30 p.m.
The social costs and benefits of self-generation. Are net metering customers receiving a free subsidy, or reducing the impacts of peak demand?
Moderator: Christopher R. Cook, Of Counsel, Keyes & Fox LLP
The Great Solar Frontier – Expanding Policy & Markets in the Western U.S.
Tuesday, March 20, 3:00 p.m. – 4:30 p.m.
California is limiting its demand from out of state, and demand may be flat around the region, but conventional power generation is running into problems and new transmission access may finally be in sight. Come hear a variety of policymakers and experts review what policies are driving surprising new solar PV opportunities in the Western U.S., and what might put the brakes on them.
Moderator: Polly Shaw, Director, External Relations, Suntech America
Technology Track
Facilitating Efficient Integration with Energy Storage: the Missing Link
Monday, March 19, 3:00 p.m. – 4:30 p.m.
As more utility-scale renewable energy projects come online, one of the challenges facing utilities and independent power producers is finding an effective way to incorporate renewable resources. Learn about the latest storage technologies, including considerations such as cost, safety and marketability. We will present initial results from a project in which two configurations of energy storage are installed in a neighborhood which has a high penetration of PV.
Moderator: Janice Lin, Managing Partner, Strategen Consulting and Director, California Energy Storage Alliance
Utility Track
Utility Solar Business Models
Monday, March 19, 10:30 a.m. – 12:00 p.m.
A national view of how utilities around the country are implementing unique and effective solar business models, aligning utility interests with policies favoring solar development. Many examples benefit both utility ratepayers and utility shareholders, while helping to further develop solar markets.
Moderator: Mike Taylor, Director of Research, Solar Electric Power Association
Cross-Cutting Track
Conflict Resolution Strategies in Solar Development
Monday, March 19, 1:00 p.m. – 2:30 p.m.
Getting a project shovel ready has its hurdles, many of which can be unexpected. This session will address some points of friction, and strategies and best practices that will smooth out the path ahead.
Moderator: Debbie Swanstrom, Partner, Patton Boggs LLC
PV Installation Safety: Installer Workforce Issues
Tuesday, March 20, 10:30 a.m. – 12:00 p.m.
This panel hosted by the SEIA Installer Safety Working Group will address different aspects of PV worker safety issues to raise awareness of the growing concern for worker safety in the green jobs sector, and to provide guidance on managing safety issues to those already in or looking to get into the PV installation business. OSHA representatives will discuss OSHA's outreach and compliance programs; experienced safety professionals will discuss real world solutions for installation safety; and a fall protection expert will discuss methods for working safely and maintaining compliance while working at height. This panel will be valuable for everyone on the installation side of the industry from field workers and managers to business owners and safety professionals.
Moderator: Karl Riedlinger, Chair of SEIA EH&S Worker Safety working group, Director of Field Engineering, SolarCity Corp
Solar Swaps
New to PV America, four interactive sessions will take place on Tuesday, March 20 from 9:00 – 10:00 a.m. Each session is is facilitated by an industry subject expert and designed to allow for small-scale networking and discussion, creating the opportunity for engaging group conversation.
Cross-Cutting Track
Globalization of Solar PV Electrical Codes and Standards
Codes and standards affecting solar PV equipment and installation are almost as varied as the equipment itself. Countless other agencies all have their own opinion as to how solar PV should be wired and manufactured. There is currently no consensus of what is considered safe for sale and use, or how it is to be installed. We will debate the pros and cons of whether a standard globalization is feasible.
Facilitator: Cari D. Williamette, Senior Construction Coordinator, Solar PV Division, Westwood Professional Services
Permitting, Inspection and Interconnection Issues and Strategies
Our discussion will focus on the current state of best practices locally, statewide, and nationally, identifying various leverage points of existing DOE work such as the Solar America Board of Codes and Standards, the Solar America Communities team, the Interstate Renewable Energy Council (IREC)-led Solar Instructor Training Network-Regional Training Providers, and others, sharing actionable, quantifiable roadmaps complete with metrics to ensure success for local, state, and national solar markets.
Facilitator: Doug Payne, Executive Director, SolarTech
Finance Track
Community Solar Projects and Other Philanthropic Initiatives
As the solar industry grows and matures, many companies are beginning to incorporate subsidized community solar projects and other philanthropic efforts as part of their business strategies. We will share case studies of these community solar projects and other philanthropic initiatives from around the solar industry, and discuss how they have been and can be leveraged to communicate with customers and other key stakeholders.
Facilitator: Erica Mackie, Executive Director and Co-Founder, GRID Alternatives
Technology Track
PV Balance of System Component Best Practices
PV balance-of-system (BOS) components (inverters, racking, junction boxes, combiners, wiring, and transformers) represent about 20 to 50 percent of system costs, but historically have been responsible for a much higher percentage of system failures. Fixed product cost and downtime associated with failures has a significant negative impact on PV system economics. We will discuss how system designers and component manufacturers can increase the reliability of solar plant applications.
Facilitator: Brian Mehalic, PV Curriculum Developer and Instructor, Solar Energy International
Pre-Conference Workshops: Sunday, March 18
Four intensive workshops conducted on Sunday, March 18, provide more in-depth training. An additional fee is charged, and NABCEP CEC Credit Hours are provided.
Smart PV System Design for the Solar Professional
8:00 a.m. – 5:30 p.m. ($300 Member/$350 Non-Member)
8 Hour Workshop – Intensive
This training will focus on PV system design strategies – including equipment specification, siting considerations and data monitoring – that meet 2011 NEC requirements. It will also cover code-compliant conductor sizing.
NABCEP CEC Credit Hours Total: 8; Code: 2 & NABCEP Task Analysis: 6 or NABCEP Educational Hours to Sit for the Certification Exams: 8
PV System Operations and Maintenance
8:00 a.m. – 5:30 p.m. ($300 Member/$350 Non-Member)
8 Hour Workshop – Intensive
Learn best practice operations, maintenance and troubleshooting to insure system longevity, peak productivity and predictable ROI. Ground-fault, arc-fault and other common installation errors and issues will be discussed.
NABCEP CEC Credit Hours Total: 8; Code: 2 & Task Analysis
Balance of Systems Innovations that Drive Time Savings & Cost Reduction
8:00 a.m. – 12:00 p.m. ($150 Member/$200 Non-Member)
4 Hour Workshop – Intensive
We will provide a hands-on, deep dive into how advancements in hardware and electrical integration are enabling faster, cleaner-looking installs that perform better over their lifetime and are easier to maintain. This evolution in technology has helped streamline the design and installation processes, giving installers an attractive advantage over traditionally installed systems.
Solar Roofing Best Practices
1:00 p.m. – 5:00 p.m. ($150 Member/$200 Non-Member)
4 Hour Workshop – Intensive
We will guide solar professionals to specific roofing codes that will help protect roof warranties and installer liability when installing mounting and flashing systems on the roof. Various mounting and flashing methods for common roof types such as composition/asphalt, tile, metal, wood shake, etc. will be covered.
NABCEP Continuing Education Credits Total: 2; or 1 CEC per hour.
Standard Pre-Reg
Jan. 19, 2012 – Mar. 16, 2012
On-Site
Mar. 17, 2012
For more information, please visit PV America West 2012.
Upcoming PV America Shows
PV America 2013 East – January 29-31 in Philadelphia
PV America 2013 West – May 14-16 in San Diego
About PV America
PV America is presented by the Solar Energy Industries Association (SEIA)® and Solar Electric Power Association (SEPA)®, whose combined efforts have created a world-class, regionally focused and vertically integrated event that engages a wide spectrum of industry professionals. Unlike other PV conferences, all proceeds support the expansion of the U.S. solar energy market through SEIA's and SEPA's year-round research and education activities, as well as SEIA's® advocacy efforts. PV America 2012 West takes place March 19 – 21 in San Jose, Calif.
About SEIA®
Established in 1974, the Solar Energy Industries Association® is the national trade association of the U.S. solar energy industry. Through advocacy and education, SEIA® works to build a strong solar industry to power America. As the voice of the industry, SEIA® cooperates with its 1,000 member companies to make solar a mainstream and significant energy source by expanding markets, removing market barriers, strengthening the industry and educating the public on the benefits of solar energy. www.seia.org.
About SEPA®
The Solar Electric Power Association (SEPA)® is an educational non-profit organization dedicated to helping utilities integrate solar power into their energy portfolios. With more than 750 utility and solar industry members, SEPA® provides unbiased utility solar market intelligence, up-to-date information about technologies and business models, and peer-to-peer interaction. From hosting national events to one-on-one counseling, SEPA® helps utilities make smart solar decisions. For more information, visit www.solarelectricpower.org.
Featured Product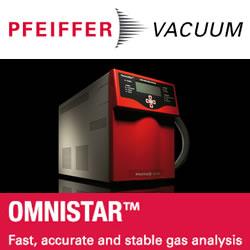 The Pfeiffer Vacuum OmniStar benchtop analysis system offers you a compact footprint, powerful software and Ethernet connectivity. It's the optimum solution for many real-time gas analysis applications. With the OmniStar, Pfeiffer Vacuum offers you a complete solution for gas analysis, in chemical processes, semiconductor industry, metallurgy, fermentation, catalysis, laser technology and environmental analysis. The turnkey OmniStar gas analysis system consists of heated, temperature-regulated gas inlet system, Quadrupole mass spectrometer, a dry diaphragm vacuum pump and HiPace turbopump. Unlike competing methods such as FTIR, OmniStar is suitable for qualitative and quantitative analysis of most gases.