Ireland is the most successful EU economy in attracting export – platform foreign direct investment
INVITATION

On the Occasion of the Launch of Opportunity Ireland,
A Showcase for investment Opportunities Available in Ireland for Development Funding and Co Venture.
Ireland is the most successful EU economy in attracting export – platform foreign direct investment.
Paddy McCarthy, Publisher Editor in chief of The Irish Examiner USA and Stanley Goldstein, Founder of the James Joyce foundation, USA
Request the Pleasure of your Company
On Wednesday 29th of February 2012
For a Casual Cocktail Reception
From 6pm- 9pm
RSVP (Strictly required) By February 24th 2012
At the Residence of: Gloria Starr Kins
131 East, 66th Street
New York, NY 10065
Tel: 347-827 8713
Email: info@opportunity-ireland.org
Featured Product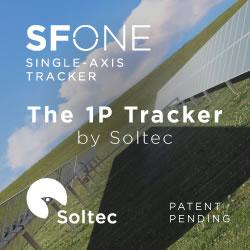 Soltec manufactures and supplies solar trackers designed and proven for extreme climate conditions, which is an ideal solution for any region's environment. Soltec's trackers are self-powered, requiring no additional PV module or grid-powered connection. Bifacial modules collect energy on both the front and rear sides, capturing reflected irradiance from the ground surface under and around the tracker and from other modules. Depending on site conditions, bifacial yield-gain can reach +30 percent.