Fourth annual Northeast Biomass Heating Expo 2012 to feature two dedicated technical and economic development tracks
Saratoga Springs, NY (March 21-23, 2012) – The fourth annual Northeast Biomass Heating Expo 2012 (nebiomassheat.com) will feature two dedicated technical and economic development tracks for its March 21-23 conference and expo in Saratoga Springs, NY. Through an expanded expo hall and info-packed workshops, the 2012 event will provide an opportunity for commercial building and heating engineers, architects, municipal officials, general contractors, and companies with advanced wood heating technology to interact and discuss the tremendous potential of wood biomass heating and combined heat and power (CHP) in the Northeast.

The 2012 program features six biomass heating sessions tailored towards specifiers of commercial and residential heating equipment. Three sessions are part of the dedicated "Specifiers Track," a work session series designed for architects, engineers, and Heating Ventilation and Air Conditioning (HVAC) professionals interested in hearing from peers on diverse views and approaches to assessing, designing, installing, and operating successful biomass heating systems. Presentations during the Specifiers Track include:
• Key principles for biomass heating systems,
• Alternative approaches to system sizing and operation
• Building a team for successful integration and operation of biomass heating systems for commercial facilities
All Specifiers Track presentations will include case studies and lessons learned. Session panelists include industry professionals with experience in biomass heating systems.
"We know that consumers—homeowners and businesses—in the Northeast are looking for affordable, renewable, and dependable heating options to replace expensive heating oil and propane," said Charlie Niebling, Northeast Biomass Heating Expo Program Chair. "Architects, engineers, and HVAC professionals are the real world specifiers and installers, the critical link between biomass heating and consumers. Through attending this event, these professionals will gain hands-on experience and specialized knowledge on wood-to-energy systems found almost nowhere else."
The 2012 program also includes a complementary three part "Economic Development Specialists Track" designed for municipal officials, planners, and staff of economic development agencies who may need to understand feasibility analyses of larger biomass heating and combined heat and power projects, along with the role that power and heat purchase agreements, government-backed loans, and grants can play in overcoming initial cost barriers for these high Return on Investment (ROI) systems. Presentations during the Economic Development Track include:
• District Heating – Can it Happen Here?
• Biomass CHP – The Next Big Thing
• Financing Biomass Thermal Projects – Larger Scale projects
Like the Specifier Track, the sessions' presenters are system designers, operators, and funding experts with hands-on experience with project development and implementation in the Northeast.
Through co-hosting of the 2012 conference, participating organizations will access free advertising, early bird registration rates for members, name publication on network sites, and a display table in the conference lobby, among other items. Conference co-host partnerships are still available for the 2012 event. As of February 16, 2012, over 25 regional and national associations had confirmed, including the U.S Green Building Council New York Upstate Chapter, New York State Economic Development Council, Empire State Forest Products Association, and Northern Forest Center, among others.
"Becoming a conference co-host broadens an organization's knowledge on the growing renewable heat industry," said Niebling. "We are actively reaching out to professional trade groups with chapters in the Northeast and invite participation from groups like the American Society of Heating, Refrigerating and Air-Conditioning Engineers (ASHRAE), American Heating and Refrigeration Institute (AHRI), American Society of Mechanical Engineers (ASME), and Association of Energy Engineers (AEE), to name a few."
Early bird registration for the event ends February 22. Professional Development Hours (PDHs) and Continuing Education Credits (CECs) may be available for professional heating, cooling, engineering, and architecture association attendees. More information on the expo, registration, and the program can be found at nebiomassheat.com.
About the Northeast Biomass Heating Expo 2012
The Northeast Biomass Heating Expo 2012 is a conference for and by the Biomass Energy Industry, and it is the successor to the Heating the Northeast with Renewable Biomass show. The 2012 conference will bring together diverse interests and panelists in biomass heating fuels like pellets, woodchips, and energy crops such as perennial grasses to educate and explore the potential for real expansion of the biomass energy industry in the Northeast. www.nebiomassheat.com
Featured Product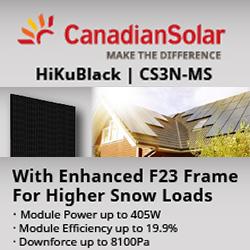 Aesthetic appearance for residential systems: With black backsheet & black frame, Power range 380 ~ 405 W, Low power loss in cell connection. Enhanced reliability: · Low temperature coefficient (Pmax): -0.34 % / °C, LID LeTID less than 2.0%, Lower hot spot temperature, Better shading tolerance.