The 1st International Solar Conference and Solar Park at the trade fair
In Hungary, the theoretical potential of solar energy could be ten thousands of MW power, but the most significant limiting factor is the scarcity of available funding related to the high price of equipment. However, in view of the rate of sunshine in Hungary, the utilization of solar thermal technology is an excellent tool due to its developed technology for spreading the use of renewable energy sources. In the case of photovoltaic solar energy, the rapid practice-oriented research and development allows for the spread of competitive systems.

Investing in solar energy is done mostly through monetary support, where the state can significantly assist. The sole capture of solar energy through electrical energy utilization is not pay-off on its own, only if coupled with financial support. The amount saved in this way increases the winner settlement's budget and decreases the institution's operating cost. It is also important to shape young people's approach, so that when the technology becomes really competitive and affordable, there will be more and more people competent and committed to renewable energy use.
From the new Széchenyi Plan in 2011 came 7.7 billion Hungarian Forint for equipment deployment of solar electricity generation, and 169 of applications were deemed to be successful. However, last year even more was spent on renewable energy sources. From March 2012, an expected 40 billion forints will be transferred and available for renewable energy projects. Through the use of renewable energy, companies can reduce their operating costs, and can thus produce their products on more competitive terms.
The RENEXPO® Central Europe International trade fair, Hungary's leading energy event focuses on solar energy. Each year, the interest is high and growing for solar solutions – in fact, in 2011, 22% of visitors raised questions about it, and 25% of the exhibitors dealt with photovoltaic or solar thermal energy. Due to this success, the Solar Park will be organised again, where visitors can easily find and approach all companies and associations dealing with the energetic sector.
Parallel to the exhibition, the 1st International Solar Conference will also be organised, where international and Hungarian professionals will present the current market situation at home and abroad. Next to the innovative technology, awareness should be raised with regard to the support, regulation and licensing systems of Hungary. The organizing professional committee also placed great emphasis on this.
The organiser REECO Hungary Kft. annually cooperates with international and Hungarian professional associations and supporters to secure professional background and communication. In 2012, RENEXPO® enjoys the support of numerous professional and media partners such as:. European Solar Thermal Industry Federation (ESTIF), PV Cycle Association, Hungarian MANAP Industry Association, Hungarian PV and Solar Thermal Association etc.
The RENEXPO® Central Europe will be organised between the 10th-12th of May, 2012 in Budapest. You can read more about the exhibition, visitor programmes and professional conferences at our homepage: www.renexpo.hu
In short about REECO: The trade fair organizer REECO GmbH is part of the REECO Group with its headquarters in Germany and subsidiaries in Salzburg/Austria, Brussels/Belgium, Warsaw/Poland, Budapest/Hungary and Arad/Romania. Since 1997, over 50,000 experts from 70 countries attended trade fairs and conferences organized by REECO annually. All event dates are available at www.reeco.eu
Featured Product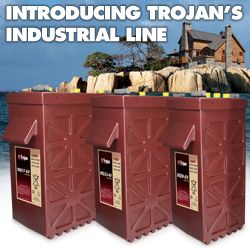 Trojan's deep-cycle batteries provide rugged durability, outstanding performance and long life for use in all types of solar energy installations. With over 90 years of experience, Trojan delivers the world's most reliable and trusted batteries in flooded, AGM, Gel, and Lithium types. These batteries enable solar equipment systems to operate at a peak level of performance in the harshest conditions or the most challenging of locations and are manufactured and tested to IEC standards.