American PV Manufacturer Now Provides Complete ASP Brand Turnkey Solar Kit
LAKE MARY, FL., February 21, 2012 - Advanced Solar Photonics (ASP), a leading PV equipment manufacturer of crystalline PV solar modules, PV mounting systems, grid-tied inverters, and PV solar system kits for residential, commercial and utility applications today announced it has launched a series of grid-tied inverters.

ASP grid-tied inverters feature industry leading efficiency and voltage operating range that maximizes energy yield and return on investment. The units are designed for residential and small-commercial rooftop or ground mount installations.
With the ASP grid-tied inverters, installation time and costs are greatly reduced through integrating the combiner box, AC/DC disconnects and wire raceway. This unique design simplifies service on the unit through a 2-piece modular configuration which allows the wiring box to remain connected and mounted in the event the power module needs replacing.
ASP inverter models include 3800W, 4000W, 5000W, 6000W and 7000W with a broad operating range of 105 to 500 Vdc for superior performance in low light and high temperature environments. ASP inverters feature a CEC-tested 97% weighted average efficiency along with a transformerless design.
The addition of ASP inverters, along with PV crystalline modules, mounting systems and components allows ASP to provide a complete turn-key solar kit system made in America.
Advanced Solar Photonics, LLC (ASP), a wholly owned subsidiary of BlueChip Energy, is a manufacturing and research and development center for crystalline silicon solar photovoltaic (PV) panels for utility, commercial and residential applications. Based on the latest cell efficiency, light transmission, and encapsulation technologies, ASP focuses on high-efficiency, state-of-the-art solar PV modules ranging from 200 Watts to 400 Watts.
ASP is the third largest producer of crystalline silicon PV panels in the United States and is one of the few producers in the US of Buy American Act compliant products suitable for government, military and municipal projects and meeting the requirements of Section 1605 of the American Recovery and Reinvestment Act of 2009.
Featured Product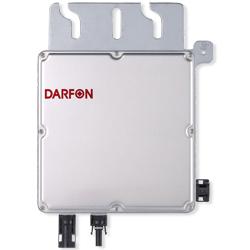 The Darfon G320 is the microinverter solution for today's high-power solar modules. The G320 handles 60- and 72-cell modules up to 350W DC and outputs up to 300W AC. The G320's 3-phase configuration accommodates the electrical distribution systems of most commercial buildings and to reduce, if not eliminate, the need for expensive transformers. The G320 comes in four voltage/phase configurations, so it can be installed in residential, commercial or utility applications.