Free webinar on March 6 at 12PM ET will explore changes in state Renewable Portfolio Standards through tier, technology, and compliance requirements. Event hosted by the Renewable Energy Markets Association (REMA)
Join the Renewable Energy Markets Association (REMA) on March 6 at 12PM ET (9AM PT) for the webinar, "Renewable Portfolio Standards Update: 2012's Compliance Modifications, Progress, and Prognostications." This complimentary webinar will feature two renewable energy experts and their insights into generation technologies, sourcing requirements, and other revisions changing the face of renewable energy in the states.

Registration is open and available here (https://www2.gotomeeting.com/register/679695666).
The National Renewable Energy Laboratory has estimated that by the year 2015, mandated electrical generation from state renewable portfolio standards (RPS) will exceed 150 million Mwh. At a time of seemingly stalled federal energy legislation, state RPS mandates are contributing to increased generation capacity nationwide from renewable sources like geothermal, biomass, wind, solar, and hydrogen.
Whether due to statute or new legislation, many state RPS mandates are in transition in 2012 and 2013, and following these updates can often make the difference in new project development.
Attend the webinar and learn
--A summary of 2012's increased RPS requirements
--Major tier and sourcing requirements changes
--Trends and concerns in RPS modifications in 2012 and 2013
--How state and regional RPS trends may influence national energy policy discussions
--Additional insights during a Question and Answer session with the speakers
Who should attend?
--Green power ("REC") marketers
--Energy project developers
--Financiers
--State and federal energy officials
--Energy aggregators and traders
--Renewable energy component manufacturers
Speakers
--Justin Barnes, Senior Policy Analyst, North Carolina Solar Center (NCSC)/DSIR
--George 'Chip' Cannon, Partner, Patton Boggs, LLP
Registration Information
--Advanced registration is required >>https://www2.gotomeeting.com/register/679695666
--This webinar is free of charge
--You only need a computer, internet access, and at least one hour of your time
--Time and Date: Tuesday, March 6 at 12PM ET / 9 AM PT
Questions?
For more information, please contact:
Joseph Seymour
Program Coordinator, Policy and Government Affairs
jseymour@ttcorp.com
Featured Product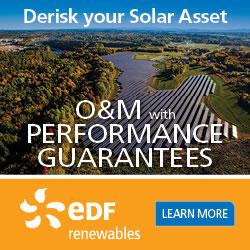 EDF Renewables offers the same innovative solutions that maximize the performance of our own 5.2 GW of installed projects. Because we're not an equipment manufacturer, our recommendations are transparent and data-driven. We cover the entire project lifecycle: from pre-commissioning support, through warranty and post warranty operation, to late stage and decommissioning.