The inaugural Sustainable Maritime Biofuels Forum, held at the University of Sydney, mapped the industry's switch to biofuels by detailing challenges and advances.
Australia's first Sustainable Maritime Biofuels Conference was just held amid increasing pressure on the maritime industry to reduce energy and emissions. The forum focused on advanced biofuels and its inclusion into the maritime industry.

Topics included:
• Australian (and global) seaborne trade will grow sharply over the next few years
• Maritime transportation is used for 70% of Australia's exported and imported goods
• The Australian maritime industry has admitted to the need to reverse its reliance on fossil fuels in favor of renewable biofuels
• The pricing of advanced biofuels and whether it will be less, more or similarly volatile to the oil price
The forum came at the right time since shipping faces increasing pressures to reduce energy and emissions intensities.
Dr Pond at the University of Sydney (and forum convener) wrote that aside from military purposes, shipping is the lifeblood of the global economy. Shipping accounts for 90% of goods transported internationally, she added. In Australia, marine transport accounts for less than 1% of national greenhouse gas emissions but 5% of transport emissions.
According to guest speaker Laurie Goldsworthy, from the Australian Maritime College, the industry has already adopted significant mandatory energy efficiency and pollution control measures – and there are more to come.
Another speaker, Jim Rekoske of Honeywell UOP said it's all about integration of low sulphur fuels into existing infrastructure. "The US$19tn asset value of global refining and distribution should be part of the solution," he said.
Barry Leay, from Aquaflow Bionomics, gave his presentation on distributed production of fuels for New Zealand ferries, produced independently from oil refineries. He also stressed the world's looming fresh water crisis. Some countries will have to import food and fresh water by ship, he adds.
Arnauld Filancia from Wartsila Corporation asked a round of questions aimed at the imagining of "alternative plausible futures." Among these were, why should ships need any liquid fuel at all? Why not have ocean-going unmanned ships running on solar power and biogas continuously harvesting algae into barges? And why not have ships offload fresh water produced en route by desalination?
In her Fuels Forum Report, Dr. Pond notes that from July 1, 2012 the new Australian Renewable Energy Agency (ARENA) will have US$3.2bn in energy investments, half of which have not been committed.
Featured Product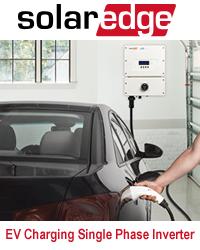 The SolarEdge PV inverter combines sophisticated digital control technology with efficient power conversion architecture to achieve superior solar power harvesting and best-in-class reliability. The fixed-voltage technology ensures the solar inverter is always working at its optimal input voltage over a wider range of string lengths and regardless of environmental conditions. A proprietary data monitoring receiver has been integrated into the inverter and aggregates the power optimizer performance data from each PV module. This data can be transmitted to the web and accessed via the SolarEdge Monitoring Portal for performance analysis, fault detection and troubleshooting of PV systems.