State leaders, local officials and company executives break ground for Kawailoa Wind – project capable of supplying as much as 5 percent of Oahu's electrical demand
HONOLULU--First Wind, an independent U.S.-based wind energy company, today celebrated the start of construction of its 69-megawatt (MW) Kawailoa Wind project on Kamehameha Schools' Kawailoa Plantation lands on Oahu's North Shore. Once complete, Kawailoa Wind will be the largest wind energy facility in Hawaii. The site's thirty 2.3 MW Siemens wind turbines will have the capacity to generate enough clean, renewable wind energy to power the equivalent of approximately 14,500 homes on the island, or as much as five percent of Oahu's annual electrical demand.

During a groundbreaking ceremony on the project site, First Wind officials were joined by U.S. Senator Daniel K. Akaka, Hawaii's Lieutenant Governor Brian Schatz, State Senator Mike Gabbard and Honolulu Mayor Peter Carlisle, along with several other state and local leaders, who shared comments on the project's significance.
"This groundbreaking for Kawailoa Wind is an historic occasion for Hawaii because, as the largest wind project ever in the state, it will harness enough clean, sustainable energy to provide power for thousands of families on Oahu," said Senator Akaka. "Renewable electricity production makes our islands more energy self-sufficient, environmentally sustainable, and secure, which is critically important now and for future generations."
Lt. Gov. Schatz added, "This is the largest wind farm in Hawai'i's history, and it shows the progress we are making toward our clean energy goals. This is a great day for Hawai'i. We've moved from talking about renewable energy to actually doing it."
"Clean energy projects are a priority for the City and County of Honolulu because they are a priority for our future," said Mayor Carlisle. "When completed, the Kawailoa Wind project will be able to produce clean, renewable energy to power more than 14,500 Oahu homes. Projects like this will benefit and position our city for the future."
In December 2011, the Hawaii Public Utilities Commission approved a power purchase agreement between First Wind and the Hawaiian Electric Company (HECO), which serves more than 400,000 Hawaii customers. Hawaii state law mandates 70 percent clean energy for electricity and surface transportation by 2030, with 40 percent coming from local renewable sources. Kawailoa Wind will significantly advance the state's progress toward these goals.
"This project will be an important part of Hawaii's diverse portfolio of renewable energy resources. As the largest wind farm in Hawaii, Kawailoa represents a significant step toward reducing the impact of imported oil on our customers," said Dick Rosenblum, Hawaiian Electric Company president and CEO.
Working in concert with the Kamehameha Schools (KS) as part of their North Shore Plan, Kawailoa Wind reflects a genuine collaboration with the community. First Wind has been in discussions about the project with North Shore residents and community organizations for the past two years, while KS began community consultation in 2006, starting with area kūpuna (Hawaiian elders) to guide the process. First Wind also worked with federal, state, and county agencies to obtain the necessary permits.
"The Kawailoa Wind project is an integral part of our North Shore Plan and represents the continued commitment of Kamehameha Schools, through the support of the North Shore community, to positioning Kawailoa Plantation as an important provider of sustainable food and energy for the State of Hawaii," said Giorgio Caldarone, Regional Asset Manager and Renewable Energy Sector Lead, Kamehameha Schools. "This project will not only help the State meet its renewable energy goals, but it will also help preserve and support continued agricultural production for future generations. Kamehameha Schools is committed to sustainability and to investing in projects today that will create positive outcomes for future generations. Mahalo to the North Shore community and to everyone else who helped to make this vision a reality."
First Wind's CEO, Paul Gaynor, also spoke at the event.
"We are pleased to begin construction on our fourth project in Hawaii, and the largest wind energy facility in the state. When it comes to renewable energy, Hawaii has proven to be a national leader, innovator and an excellent partner," said Paul Gaynor, CEO of First Wind. "Powering up to 14,500 Oahu homes with one project allows us to continue our leadership in the state's ambitious clean energy plans. Our continued success is also a testament to all of our partners and supporters, including the North Shore residents, our PPA partners at HECO and our contractors such as RMT."
As with other projects on Maui and Oahu, First Wind developed a Habitat Conservation Plan (HCP) for Kawailoa Wind, working with the U.S. Fish and Wildlife Service and the Division of Forestry and Wildlife of the Hawai'i Department of Land and Natural Resources. The HCP is a wildlife conservation effort that includes research funding and actions to protect and minimize incidental harm to federally listed species in the vicinity of the wind energy project.
First Wind owns and operates two other wind energy projects in Hawaii, and is currently building another project on Maui. Kahuku Wind, also located on Oahu's North Shore, is a 30 MW wind project that has the capacity to generate enough energy to the power the equivalent of 7,700 Oahu homes. The Kahuku project went online in March of 2011. Beginning commercial operations in 2006, the 30 MW Kaheawa Wind project is above Ma'alaea. First Wind is currently building a second Maui project, Kaheawa Wind Power II that will consist of 14 wind turbines, capable of generating 21 MW of energy. Once Kaheawa Wind II is complete, the two Kaheawa projects will have a capacity of 51 MW.
Beyond the affordable clean energy they produce, First Wind's projects in Hawaii have been significant economic drivers. RMT Inc., which also handled construction for First Wind's Kahuku Wind project on Oahu and is currently building Kaheawa Wind II on Maui, will lead construction efforts for Kawailoa Wind. Collectively, ongoing work at Kaheawa Wind II and the work done at Kahuku Wind have driven nearly 200,000 on-site labor hours during construction, and more than 50 Hawaii businesses have been included in the development and construction supply chains for the two projects.
About First Wind
First Wind is an independent wind energy company exclusively focused on the development, financing, construction, ownership and operation of utility-scale wind projects in the United States. Based in Boston, First Wind has wind projects in the Northeast, the West and in Hawaii, with the capacity to generate up to 750 megawatts of power and projects under construction with the capacity to generate up to an additional 195 megawatts. For more information on First Wind, please visit www.firstwind.com or follow us on Twitter @FirstWind.
Featured Product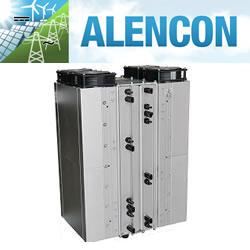 Alencon Systems is the premier manufacturer of high power, high voltage DC:DC optimizers for alternative energy applications including solar, battery energy storage, Microgrids, Fuel Cells and Electric Vehicle charging. Alencon's DC:DC converter offerings include the SPOT, BOSS and CUBE series DC:DC converters. The SPOT is a modular, uni-directional DC:DC solution ideal for solar applications. The BOSS is a modular, bi-directional unit for use with battery energy storage. The CUBE is a monolithic DC:DC converter which is available in both uni-directional and bi-directional modalities. Pictured above, is the Alencon SPOT.