UNI-SOLAR photovoltaic (PV) laminates to South Korea for two separate projects
AUBURN HILLS, Mich., Feb. 29, 2012 -- United Solar, the

global manufacturer of UNI-SOLAR(R) lightweight, flexible solar modules and
a wholly owned subsidiary of Energy Conversion Devices, Inc. (OTC:ENERQ.PK)
announced today the shipment of 3.45 megawatts (MW) of its UNI-SOLAR
photovoltaic (PV) laminates to South Korea for two separate projects with
its distribution partner, KC Energia Co., Ltd., a joint venture partner of
KC Cottrell, a Korean solar PV solutions provider.
The first, a 2.1 MW installation consisting of approximately 14,580
UNI-SOLAR laminates, is located at the Gwang Yang Port Distribution Complex,
specifically designed for Yeosu Gwang Yang Port Authority "Green Port". The
laminates are expected to generate approximately 2.6 million kilowatt hours
(kWh) of electricity and reduce 1,678 tons of carbon dioxide annually.
The second, a 1.35 MW project located at the Dang Jin Waste Management
Facility, consists of 9,375 UNI-SOLAR laminates installed over
365,111ft². Annual electricity generation expected is approximately 1.4
million kWh.
Both solar PV projects were developed by Korea East West Power Company, a
global leading energy company specializing in engineering, procurement and
construction. Korea East West Power Company developed the project in
cooperation with United Solar's distribution partner, KC Energia Co., Ltd.
"UNI-SOLAR PV laminates are the most lightweight solar PV product available
in the Korean market, and approved by Korea Energy Management Corporation
KEMCO," said Salama Naguib, Vice President of Sales for United Solar.
"United Solar is focused on expanding its markets through globalization of
sales, and we see great opportunities for solar PV in Korea. We look forward
to continued partnerships with KC Energia and KC Cottrell."
United Solar has more than 25 years experience in the solar industry, is the
largest manufacturer of lightweight, flexible solar panels in the world, and
has been awarded nearly 70 United States patents for various technological
advancements.
About United Solar/UNI-SOLAR(R)
United Solar has been a global leader in building-integrated and rooftop
photovoltaics for over 25 years. The company manufactures, sells and
installs thin-film solar laminates that convert sunlight into clean,
renewable energy using proprietary technology for which the company has been
awarded over 70 U.S. patents. UNI-SOLAR(R) brand products are unique because
of their flexibility, light weight, ease of installation, durability, and
real-world energy production. For more information on United Solar visit
uni-solar.com or follow UNI-SOLAR on Facebook.com/unisolar and
Twitter.com/uni_solar.
Featured Product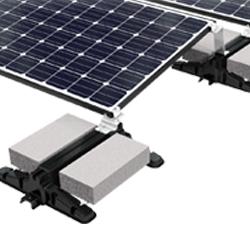 The Power Rail™ Commercial Mounting System is designed with the professional PV solar installer in mind. Both the XD/UD and LD/MD rails feature single tool assembly with the revolutionary patented RAD™ Lock-in-Place bolt for fast and secure module clamping. The high strength marine-grade aluminum rails include an integral wiring channel for securing cables and providing a professional finish.