New England Businesses Invited to Explore Solar ROI and Learn the Solar Project Process at Clarke in Milford, MA
Beaumont Solar Company, based in New Bedford, MA, has announced their second Solar Expert Roundtable event for Wednesday, April 4 from 5:30-7:30PM at the award-winning Clarke showroom in Milford, MA. The host site, a totally solar-powered 106,500-square-foot distribution, showroom and warehouse facility is one of the largest rooftop solar projects in Massachusetts, designed and installed in 2011 by Beaumont Solar Company. The project provides a stunning example of how solar power is changing the face and bottom line of New England businesses.

"We are thrilled to once again bring together some of the greatest minds and success stories in New England solar energy," said Beaumont Solar Company President Phil Cavallo. "This is the perfect forum for business people from every industry to learn from and dialogue with the solar experts in New England to understand the ROI for solar in Massachusetts and Rhode Island in just two hours."
Beaumont Solar's panel of industry experts will include accounting professionals on solar system tax incentives and financial treatment of solar systems for New England businesses; financial executives explaining financing options for solar projects; customer testimonials from those who have made the switch to solar energy; and the basics of solar system design and implementation.
"We are thrilled to have Phil Cavallo's team from Beaumont spearhead this great event at Clarke," said Sean Clarke, general manager of New England's exclusive distributor of high-performance appliances from Sub-Zero, Wolf and Asko. "There's simply no arguing with a business proposition that takes you from a $10,000 per month electric bill to one that is under $100. Partnering with Beaumont for our solar installation is one of the best business decisions we have made in our 20-year history and we're pleased to share this success story with all New England business leaders at this key business forum. We know what we went through to research the feasibility of solar power for our facility and know this event will help entrepreneurs and business leaders efficiently get the facts that it took us many months of trial and error to discover."
Based on Beaumont's first Solar Expert Roundtable event held last summer at the Fairfield Inn in New Bedford, MA, it is expected that company owners, CEOs and presidents, finance executives and other business leaders interested in learning about the ROI of solar energy projects, will all be represented at this one-night event.
"Massachusetts is one of the hottest solar markets in the U.S.," said Cavallo. "With various financial incentives currently in place, including federal investment tax credits, depreciation bonuses and solar renewable energy credits, most systems can realize a significant ROI in three to five years. There is no better time to investigate solar energy for your business."
There is no charge to attend The Solar Expert Roundtable, however reservations are required for this limited-space event. For more information on The Solar Expert Roundtable at Clarke, please email Marlene Arruda (marlene@beaumontsolarco.com) or call 508-990-1701, Ext 201.
Beaumont Solar Co.
As one of the largest commercial solar engineering, procurement and construction companies (EPCs) based in Massachusetts, Beaumont Solar specializes in landfills, ground arrays, large commercial rooftops and carports throughout New England. Beaumont is vertically integrated with in-house design, engineering and system implementation capabilities within one company. Beaumont Solar projects have resulted in a variety of businesses reaching Net Zero electrical energy, saving millions of dollars in energy and significantly reducing carbon emissions in the region.
Featured Product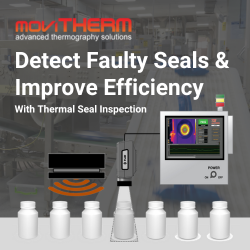 MoviTHERM's Thermal Seal Inspection (TSI) solution provides precise and reliable detection of defects in a variety of packaging types, including pouches, bags, blister packs, bottle caps, and more. By detecting defects in your packages, the TSI solution helps increase efficiency in your production line and ensures top-quality packaging is delivered to your customers every time. With state-of-the-art technology and an experienced team, MoviTHERM is dedicated to delivering accurate inspection solutions and peace of mind to its clients. Contact MoviTHERM today to learn more about their thermal seal inspection solution.