Algae's role in helping large buildings achieve eco-sustainability will be evaluated with regional government support
LOS ANGELES & Paris, France - March 8, 2012 - OriginOil, Inc. (OTC/BB: OOIL), developer of a breakthrough technology to convert algae into renewable crude oil, today received a firm order from its French joint venture partner Ennesys to supply OriginOil's Algae Appliance(TM) harvester and other components for a test of urban algae production. Located in the iconic La Défense complex near Paris, the program aims to show that algae production can be integrated into large building complexes.

"This is a clear sign that algae is being seriously evaluated to help improve the eco-footprint of massive commercial developments," said Riggs Eckelberry, OriginOil's CEO. "This order marks another sale and revenue generation from our commercialized algae systems. And we're delighted to have a high-profile showcase for our technologies in Europe."
The Ennesys demonstration is designed to test the suitability of algae production in helping large commercial buildings achieve a positive energy balance and natural water management, as envisioned by France's RT 2020 sustainable energy framework. Partial funding is anticipated from regional government entities.
"Our government is serious about minimizing the environmental impact of the massive developments now being planned for the Paris regional area," said Pierre Tauzinat, CEO of Ennesys. "We intend to show that algae production can be safely and productively integrated into urban settings."
At 40% of total consumption, buildings are Europe's greatest source of energy demand. France has taken the ambitious step of mandating that by 2020, all new buildings must generate more clean energy than they consume, and must purify and recycle water naturally.
These regulations are seen as a major market opportunity for algae. In addition to being a source of clean energy and water management, algae absorbs large amounts of CO2, creating a carbon neutral fuel that eliminates equivalent amounts of emissions from fossil fuels.
"Coinciding with President Obama's recent endorsement of algae as a way to reduce U.S. oil imports, this project reflects widening global recognition of algae as a means to reduce fossil fuel use and the CO2 emissions that come with it," added Eckelberry.
Since May 2011, OriginOil's joint venture partner Ennesys has been engaged by major French developers to study the integration of wastewater algae production in two massive building projects in the Greater Paris region and other French cities, with a total area exceeding 35 million square feet (1 million m2).
On September 30 2011, Ennesys beat out eleven other companies to win the top prize in the first annual Venture Competition at the Budapest Innovation Festival. The competitors were all selected by the partner network of Climate-KIC (Knowledge & Innovation Community), an initiative of the European Institute of Technology (EIT).
(photo of Climate-KIC CEO Professor Mary Ritter of The Imperial College of London, awarding the Venture Competition prize to Ennesys CEO Pierre Tauzinat.)
OriginOil recently published the results of a study pointing to ways to make algae production much more cost-effective, potentially enabling algae production in urban settings.
About Ennesys SAS (www.ennesys.com)
A French partnership of UK-based incubator PJC and algae oil services leader OriginOil, Ennesys was launched in 2010 to meet the challenge of new European environmental regulations using innovative algae technologies. The joint venture focuses on urbanized markets, where high population densities and energy prices can give algae a major advantage for waste to energy generation. Ennesys is leveraging its extensive relationships in the large-scale French construction industry and its knowledge of EU carbon regulations to develop large-scale, viable projects for green buildings and other advanced algae projects.
About OriginOil, Inc. (www.originoil.com)
OriginOil helps algae growers extract oil from algae for use as a feedstock for the commercial production of transportation fuels, chemicals and foods. In a single step, our breakthrough technology efficiently dewaters and breaks down algae for its useful products, overcoming one of the greatest challenges in making algae a viable replacement for petroleum. As a pioneer and the emerging leader in the global algae oil services field, OriginOil supports its core algae extraction technology with an array of process innovations for some of the world's most successful algae growers and refiners, just as pioneers like Schlumberger and Halliburton have done in the oilfield services industry. To learn more about OriginOil, please visit our website at www.originoil.com.
Featured Product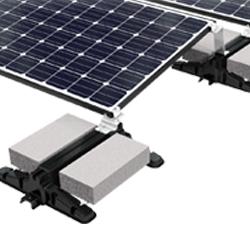 Preformed Line Products introduces the POWER MAX Ballasted Roof Mounting System. The POWER MAX solar mounting system is engineered to maximize energy output on commercial flat roofs. Developed with the professional installer in mind, this system offers adjustable inter-row spacing in the field of up to 11 inches. It features 50% fewer components and a simplified design resulting in faster assembly rates and labor savings on every project. Available in a flush mount, 5Ëš or 10Ëš tilt or higher density dual tilt design, the POWER MAX base arrives stacked on pallets providing easier transport to the roof. Engineered as a fully ballasted, non-penetrating system, it accepts standard concrete blocks and is qualified by wind tunnel testing.