Wind Energy Update reports effective risk management practices are becoming increasingly important in the offshore wind energy sector as the cost of new projects reaches a staggering range of 2.0 to 2.2 million €/MW
London March 09, 2012

As reported by wind energy update risk management in the offshore wind sector is a complex process which begins with assessing the given company's unique risk management maturity level. This requires performing an advanced gap analysis both on corporate and operational levels then directly applied to the company's entire portfolio. At this moment in time, the offshore wind industry must demonstrate that risks are properly understood and the appropriate strategies are in place. This is critical for attracting banks and private investors to the industry to facilitate the success of Offshore Wind Farms and minimise the negative impact of the financial crisis on the sector.
"The attitude of risk ownership is a very important one and must be adopted by the industry if we want to see long-term successful results" said Lita Cuen, CEO & Founder at LC RISQ & Associates.
"This essentially consists in companies embracing good communication practices to ensure that critical risk information is equally and efficiently distributed across all the relevant sectors. In fact, good risk management practices equals better risk mitigation and results in greater cost reductions which is the ultimate goal for the offshore wind sector at the moment'' Ms. Cuen said.
Ms. Cuen will share her views on the subject alongside experienced industry giants such as Vattenfall, RWE Innogy, Starkraft, Acciona, Siemens and Fitch Ratings at Wind Energy Update's first Offshore Wind Risk Summit in Hamburg this June.
Wind Energy Update's summit will provide a platform for experienced companies to demonstrate their knowledge in the field of risk assessment, management and mitigation, including the crucial topics such as raising capital, permitting risks, project delivery risks and supply chain risk.
For further information on what risk is comprised of and how you can learn to help your business succeed in offshore wind go to the event website http://bit.ly/weurisk
Featured Product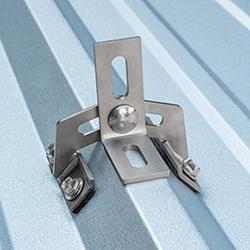 QuickBOLT Low Profile QuickBOLT with Microflashingâ"¢ is the industry's affordable, UL Certified Asphalt Shingle mounting system. The Microflashingâ"¢ is compressed by the collar on the bolt to create a water-tight seal. With an installation time of less than one minute, the Low Profile QuickBOLT allows installers to complete more jobs.