Additional $18 M accelerates availability of energy-efficient power devices for solar, wind, traction-drive, & hybrid/electric auto industries Investment will spur continued growth of clean-tech jobs in Mississippi
STARKVILLE, Miss. & MUNICH--SemiSouth Laboratories, Inc., a leading manufacturer of high-voltage silicon-carbide (SiC) semiconductor devices, today announced a second major capacity expansion within 18 months. The expansion will help drive the continued growth of SemiSouth's SiC fabrication facility and better serve customers who are rapidly adopting the company's diode and industry-leading power transistor products. The adoption of SemiSouth's SiC technology enables ultra-efficient power conversion for solar and wind inverters, hybrid/electric vehicles, traction-drive and other applications that benefit from exceptionally high energy efficiency.

"Today's announcement is a testament to SemiSouth's success with existing customers in solar inverter and industrial power supply market segments," commented Jeff Casady, President of SemiSouth. "We are ramping with our customers' demands for our industry-leading SiC power JFET and power diode products, and this new expansion will allow us to expand our volume another 50% for these customers and new ones starting up with us."
Dieter Liesabeths, Senior Vice President of Sales & Marketing at SemiSouth, added, "SemiSouth is continuously being recognized by its customers for having world-record, cost-effective, energy-efficient power semiconductor electronic products based on our proprietary SiC technology. We have many customers in production with even more in development for our products in energy-sensitive markets such as solar inverters, server power supplies, wind inverters, and electric vehicle development." This is the second major expansion of SemiSouth's fab facility in Starkville, MS headquarters within the past 18 months.
About SemiSouth Laboratories, Inc.
SemiSouth, a privately owned corporation with its main offices and foundry in Starkville, Mississippi, (USA), focuses on silicon carbide (SiC) power devices and electronics, targeting applications such as: solar inverters; power conversion in computing and network power supplies; variable-speed drives for industrial motors and hybrid electric vehicles; and products used in high-power, harsh-environment military and aerospace environments. The company was formed in 2000, has sold products globally through direct sales or distributors since 2005, and received a major growth investment from Power Integrations (NASDAQ: POWI) in 2010. It introduced the world's first commercial, cost-effective normally-off SiC JFETs in 2008, which have enabled world-record energy efficiencies for its customer's products. SemiSouth has ~ 30 U.S. patents in the emerging field of high-efficiency silicon-carbide power devices. The company operates a 20,000-square-foot facility at its Starkville headquarters, where it employs more than 115 people. SemiSouth products are available through a global distribution network of several high-quality reps/distis, listed at ( http://www.semisouth.com/contact/salesreps-distributors.html ). More information is available at www.semisouth.com.
Featured Product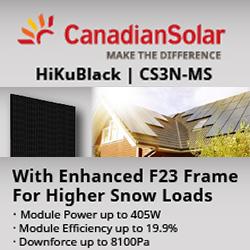 Aesthetic appearance for residential systems: With black backsheet & black frame, Power range 380 ~ 405 W, Low power loss in cell connection. Enhanced reliability: · Low temperature coefficient (Pmax): -0.34 % / °C, LID LeTID less than 2.0%, Lower hot spot temperature, Better shading tolerance.