Solazyme's 100% algal derived advanced biofuel powers naval fleet ship and outboard engines
SOUTH SAN FRANCISCO, Calif.--Solazyme, Inc. (NASDAQ:SZYM), a renewable oil and bioproducts company, announced today that the USS Ford, a U.S. Navy Frigate fleet ship, successfully journeyed from its homeport in Everett, WA to San Diego, CA using Soladiesel HRD-76®, Solazyme's 100% algal derived renewable marine diesel fuel. The voyage was fueled using 25,000 gallons of a 50/50 blend using Soladiesel® and petroleum F-76 in the ship's LM 2500 diesel turbines, and marks the first demonstration of the alternative fuel blend in an operational fleet ship.

Meeting the secretary of the Navy's call for a drop-in fuel replacement, no changes were required to the infrastructure of the ship or fueling pier for the test. Feedback from the ship's engineers was favorable; the crew reported that operational performance of the fuel system and gas turbine engines on the 50/50 blend was similar comparable to operations on traditional petroleum F-76.
"The U.S. Navy continues to demonstrate the effectiveness of our fuel in multiple vessels, and we are honored to have the opportunity to assist with efforts to reduce their dependence on fossil fuels," said Rogerio Manso, Chief Commercialization Officer, Solazyme. "We view these successful tests as an important step towards the commercialization of our renewable fuels."
Solazyme has successfully completed the delivery of over 500,000 liters of in-specification fuel to the U.S. Navy including the largest deliveries of microbially-derived advanced biofuels in history. In December 2011, Dynamic Fuels, LLC, a joint venture between Tyson Foods, Inc. (NYSE: TSN) and Syntroleum Corporation (NASDAQ: SYNM), announced it had been awarded a contract to supply the U.S. Navy with 450,000 gallons (1.7 million liters) of renewable fuels. Solazyme is partnered with Dynamic Fuels to fulfill the contract, and delivery to the U.S. Navy is scheduled for May 2012, marking the single largest purchase of advanced biofuel in government history.
Solazyme's renewable diesel and jet fuels meet all of the EU, ASTM and draft military specifications for diesel, marine diesel and jet biofuels.
About Solazyme, Inc.
Solazyme, Inc. (NASDAQ: SZYM) is a renewable oil and bioproducts company that transforms a range of low-cost plant-based sugars into high-value oils. Headquartered in South San Francisco, Solazyme's renewable products can replace or enhance oils derived from the world's three existing sources – petroleum, plants and animal fats. Initially, Solazyme is focused on commercializing its products into three target markets: (1) fuels and chemicals, (2) nutrition and (3) skin and personal care.
Featured Product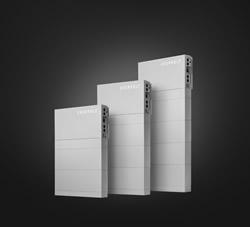 Renewable energy stored in an EVERVOLT home battery system is the perfect backup plan against an uncertain utility grid and weather events. Run key appliances longer and live life when the unexpected happens. EVERVOLT battery storage systems are covered by a complete 12-year warranty from Panasonic.