Today, GTM Research and SEIA® release U.S. Solar Market Insight: Year-in-Review 2011, analyzing the industry's record growth and what lies ahead in 2012 and beyond.
[WASHINGTON] - The U.S. solar energy industry installed a record 1,855 megawatts (MW) of photovoltaic (PV) capacity in 2011, more than doubling the previous annual record of 887 MW set in 2010, according to the latest U.S. Solar Market Insight report. The record amount of solar installations is enough to power more than 370,000 homes, and represents a 109 percent growth rate in 2011. It is the first time the U.S. solar market has topped one gigawatt (1,000 MW) in a single year. In the fourth quarter of 2011 alone, the industry installed 755 MW, up 115 percent from Q4 2010, for a second consecutive record-breaking quarter. GTM Research and the Solar Energy Industries Association (SEIA®) estimate the U.S. solar market's total value surpassed $8.4 billion in 2011.

This unprecedented growth was spurred in part by declining installed solar photovoltaic (PV) system prices, which fell 20 percent last year on the back of lower component costs, improved installation efficiency, expanded financing options, and a shift toward larger systems nationwide. In addition, the anticipated expiration of the U.S. government's 1603 Treasury Program, which ended Dec. 31, 2011, drove developers to commission projects before the end of the year.
The report also provides an update on the concentrating solar power (CSP) market. While no new concentrating solar thermal electric capacity was brought online in 2011, a total of 10 concentrating photovoltaic projects came online. The year also saw meaningful construction progress on a number of projects with some capacity expected to come online later in 2012 and a surge in 2013. Today, more than 1,000 MW of CSP are under construction, enough to power 200,000 homes.
As of year-end 2011, cumulative PV capacity in the U.S. reached nearly 4,000 MW and cumulative CSP capacity topped 500 MW. Together this represents enough solar capacity to power nearly a million households.
"In 2011, the market demonstrated why the U.S. is becoming a center of attention for global solar," said Shayle Kann, Managing Director of GTM Research's solar practice. "It was the first year with meaningful volumes of large-scale PV installations; there were 28 individual PV projects over 10 megawatts in 2011, up from only two in 2009. Furthermore, the market continued to diversify nationally; eight states installed more than 50 megawatts of solar each last year, compared to just five in 2010. These are all indicators of a vibrant market."
The latest U.S. Solar Market Insight report found 800 MW were installed in the commercial sector in 2011, led by the California and New Jersey markets, compared to 758 MW of utility PV and 297 MW of residential installations. Utility-scale project installations, primarily across states in the Southwest, nearly tripled 2010 totals. In the residential sector, California installed 114 MW, with New Jersey, Arizona, Hawaii, Pennsylvania and Colorado each contributing meaningfully to the residential total.
According to U.S. Solar Market Insight, 2012 will be another strong year for the PV industry, with installations of more than 2,800 megawatts forecasted. Beyond 2012, the report forecasts installations to continue their ascendancy at a compound annual growth rate of 30 percent through 2016.
"The solar industry is the fastest growing industry in America for the second year in a row. What we are seeing in the U.S. is that policies are working to open new markets and remove barriers for solar," said Rhone Resch, president and CEO of SEIA. "The industry is now poised for years of multi-gigawatt growth and the creation of tens of thousands of new jobs. But we face a number of challenges that have the potential to slow this growth. That is why SEIA now coordinating the industry's federal and state policy initiatives to present a unified, cohesive voice for the solar industry."
A separate report on 2011 growth of U.S. solar heating and cooling technology is expected midyear.
2011 Q4 U.S. Solar Market Insight key report findings:
*PV installations grew 109 percent in 2011 to reach 1,855 MW, which represents 7 percent of all PV globally, up from 887 MW and 5 percent of global installations in 2010.
*Cumulative PV capacity operating in the U.S. now stands at 3,954 MW.
*There were 28 individual PV projects over 10 MW completed in 2011, up from only two in 2009.
*Eight states installed over 50 MW each in 2011.
*Installation totals in 2011 increased in 18 of the 23 states covered in detail.
*Weighted average PV system prices fell 20 percent in 2011 as a combined result of lower component prices, improved installation efficiency, and a shift toward larger systems.
*There were over 61,000 individual PV systems installed in the U.S. in 2011, bringing the total number of operating systems in the U.S. to more than 214,000.
About Solar Market Insight:
The U.S. Solar Market Insight: Year in Review 2011 report (http://www.greentechmedia.com/research/solarinsight) is the most detailed and timely research available on the continuing growth and opportunity in the U.S. The report includes analysis of photovoltaic (PV) and concentrating solar power (CSP) technologies, identifying the key metrics that will help solar decision-makers navigate the market's current and forecasted trajectory.
About SEIA:
Established in 1974, the Solar Energy Industries Association is the national trade association of the U.S. solar energy industry. Through advocacy and education, SEIA and its 1,100 member companies are building a strong solar industry to power America. As the voice of the industry, SEIA works to make solar a mainstream and significant energy source by expanding markets, removing market barriers, strengthening the industry and educating the public on the benefits of solar energy. www.seia.org
About GTM Research:
Greentech Media delivers research and analysis in the business-to-business greentech market. Using an integrated platform, we produce high quality products, whether it is industry news, market research or networking events. GTM Research, the research arm of the company, produces in-depth market reports and is the publisher of PV News, a monthly solar market tracker. Greentech Media is headquartered in Boston, MA, with operations in New York, NY, San Francisco, CA and Munich. For more information, visit www.greentechmedia.com.
Featured Product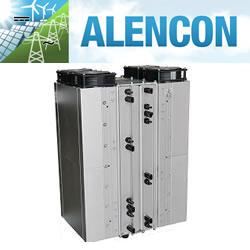 Alencon Systems is the premier manufacturer of high power, high voltage DC:DC optimizers for alternative energy applications including solar, battery energy storage, Microgrids, Fuel Cells and Electric Vehicle charging. Alencon's DC:DC converter offerings include the SPOT, BOSS and CUBE series DC:DC converters. The SPOT is a modular, uni-directional DC:DC solution ideal for solar applications. The BOSS is a modular, bi-directional unit for use with battery energy storage. The CUBE is a monolithic DC:DC converter which is available in both uni-directional and bi-directional modalities. Pictured above, is the Alencon SPOT.